You clean your stovetops, wipe down your kitchen bench and wash off all your cooking utensils. But how often does your attention shift to your oven?
We're willing to be the answer is "not that often".
Most of us don't see the messes that build up in our ovens. Some of us don't even realise that our ovens even need cleaning in the first place!
While cleaning the oven may not be the most glamorous job, don't be mistaken: it should be an important part of your home cleaning routine. Our oven cleaners in Melbourne explain why….
Why oven cleaning matters
Protect your health by cleaning your oven
When you use your oven, you often leave behind dirt, food residue and grease. Not only are they unhygienic – they're also breeding grounds for all sorts of germs and bacteria.
You might not even notice it now, but give it a few hours and your stomach certainly will!
Regular oven cleaning reduces the health risks that come with a dirty oven. We aren't even talking about deep cleaning either – a quick clean after baking sessions can go a long way towards protecting your health.
Help, there's a fire!
Food safety isn't the only problem a dirty oven poses – it's also a fire hazard, believe it or not.
That's because food debris that's left inside your oven for a prolonged time and heated or reheated several times can burn and even catch fire!
While it's a rare occurrence, when it comes to your safety, there's no such thing as "too safe". That means cleaning out your oven every once in a while to prevent any fires from breaking out.
Why is my oven not working properly?
Without regular cleaning, accumulated dirt and grease can block important oven mechanisms. This can impact your oven's ability to cook, and can potentially lead to oven malfunctions.
This is because debris can end up blocking vital fans and vents, which are responsible for removing:
Airborne grease
Fumes
Smoke
Heat
Steam
As such, regular cleaning can help your oven not only to perform better, but also to last longer.
Keep your food tasting and smelling the way it should
Ever tasted a cheesy lasagna that smelled and tasted like fried fish?
It's not pleasant, we know.  And in many cases, it's the result of a dirty oven!
Food particles and grease can get stuck in your oven, adding "extra flavour", so to speak. Needless to say, this is the last thing you want when baking a birthday cake or Christmas roast!
Failing to clean your oven can significantly affect the taste and smell of your food – a foodie's worst nightmare. The solution? Periodic oven cleaning.
Oven cleaning hacks
Okay, so now you know why oven cleaning matters. That brings us to the next question: "how?"
Cleaning your oven is a difficult job – not all of us have the effort or time to do it.
Luckily, our oven cleaners in Melbourne have put together a couple handy oven cleaning hacks to help you avoid running into such dilemmas with your oven.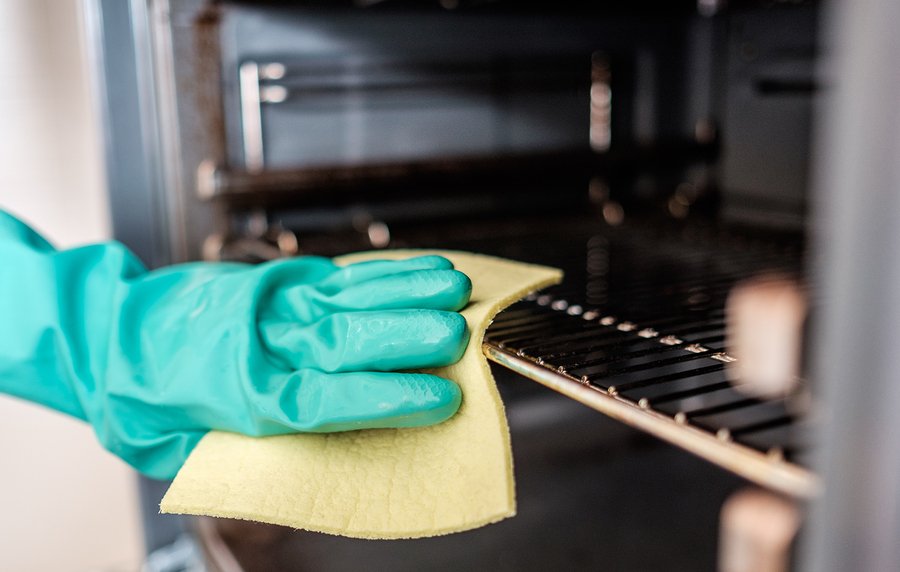 Clean as you go
What's better, studying and learning as you go, or waiting until the night before an exam to try to take on an entire semester's worth of content?
Obviously, the answer is the first option. Cramming is no good – not only does it make things way more stressful than they need to be, but it's also much harder work (with no guarantee of a result, either!)
Oven cleaning is quite similar in that regard.
Instead of pushing back your cleaning and having to deal with hardened grime and stubborn stains, we instead suggest giving your oven a quick once-over with oven cleaner every time you bake.
Not only does it save you a bunch of extra work, but it also makes cleaning significantly easier. You'll be wiping away grease, stains and messes before they have an opportunity to harden and get a foothold in your oven.
Use a lid
Certain foods spill over and bubble or spatter. This is one of the leading causes of mess in your typical oven.
The solution? A barrier to stop this spatter and food mess from getting everywhere.
If what you're baking allows for it, a good idea is to cover up your food with a lid. Don't worry, it doesn't have to be air-tight – for foods that need to "breathe", tin foil will also do the trick.
Use a spill tray
Do you have spare oven trays lying around? If so, we suggest putting them to use!
What you'll want to do is place a second, slightly larger tray underneath your food. For example, if you're cooking using the top rack, place a second tray on the bottom rack, or putting your food tray on top of a larger tray.
This can help catch any food scraps or drips that might spill over from your cooking tray.
It's a small thing, but you'd be surprised how much it can help!
Need oven cleaning in Sydney?
You need a Master Cleaner!
Let's face it: cleaning isn't the most enjoyable activity.
And even less so when it comes to oven cleaning specifically!
Too tired, busy or simply don't have the tools needed to get the job done properly?
Let a Master do it for you!
Master Cleaners offers specialist services such as oven cleaning in Sydney. We clean all sorts of ovens:
Our specialty is looking after the jobs that are too big, tough or dirty for you to handle on your own.
And that includes ovens.
Need oven cleaning in Melbourne or Sydney? Leave it to us – contact Master Cleaners today on 1800 11 22 34 or fill in the form to get a quote on your cleaning requirements.