It's natural to feel apprehensive when it comes to professional house cleaning. It's your home we're talking about after all – you want somebody who's going to treat it with respect, and who you can trust with your property.
With so many house cleaners in Melbourne offering their services, it's entirely reasonable to feel lost – who should you choose?
Worried? Feel overwhelmed? Under pressure? Don't be – there are many ways you can thin the field and decide on which house cleaner is best for you.
So before you pick up the phone and call that house cleaner in the ad, make sure that you go through this process to ensure you engage somebody who will treat your house properly!
1) Ask for recommendations
House cleaning isn't as easy as it looks – since you're here on our website, we're sure you've come to that conclusion yourself!
You want your house to be spotless. And with the scope of work and area to be cleaned, any house cleaning job should be done with utmost care and attention.
Luckily, there's an easy source of suggestions: your friends and family!
If you know somebody who is using a house cleaning service in Melbourne or has used one in the past, send them a short text asking them about it.
In particular, ask about:
How clean they left their house
How they work
What their rates are
You'll also want to ask them what type of service your friend or relative called a house cleaner for.
That's because not all house cleaning jobs are the same – while a deep clean might be more time-consuming that a standard clean, it's also much more thorough and in-depth.
2) Look for testimonials and reviews
So you don't have any family or friends who've engaged a professional house cleaner in Melbourne recently. No problem – instead, cast your net a bit wider and get on the net!
One of the best ways to spot a good house cleaner from one that isn't quite as fantastic is to search for them on the web and check their testimonials and online reviews.
Based on the experiences of previous companies and clients, you'll be able to build an idea of their work ethic, professionalism, and reliability.
In particular, keep an eye out for reviews or past clients whose cleaning jobs line up with yours.
Stuck? Control + F is your friend!
Furthermore, try to look for reviewers who need the exact same type of house cleaning as you – if you need someone to help with spring cleaning, focus on reviews from clients who paid for that.
And if you need a specialist cleaning job for your home, look for reviews that mention similar services. Speaking of which…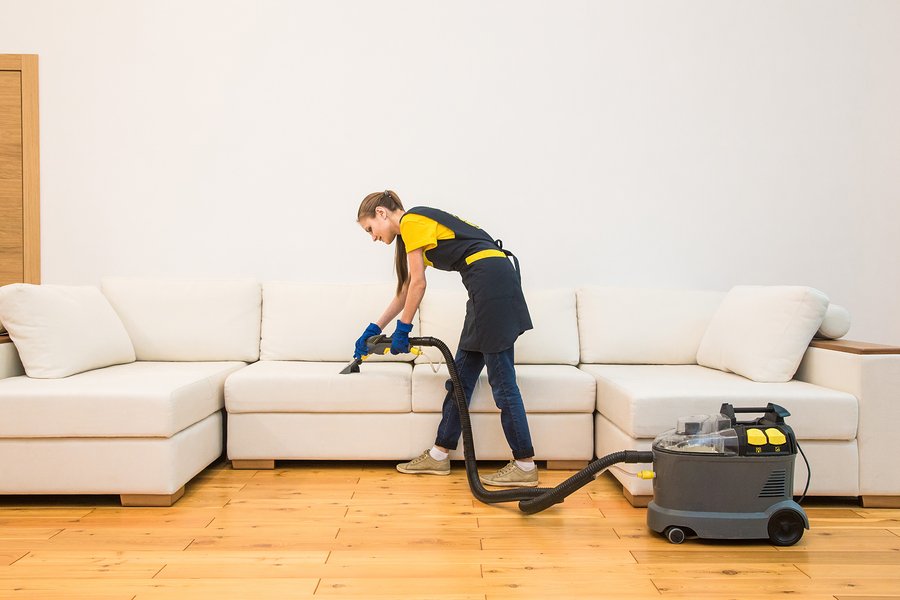 3) Look for specialist cleaning jobs
While you may not need a specialist cleaner (yet), we suggest looking for a cleaner that offers these services anyway.
Not only does this ensure that your cleaner will be able to rise to the occasion if you need a specialist cleaning job done, but it's also a testament to your cleaner's skill!
Take our house cleaners in Melbourne, for example. At Master Cleaners, our specialist services include:
These jobs are tough, and often require specialist products and equipment.
Needless to say, if we can handle this, we can definitely take care of your house!
4) Treat your first phone call like an interview
Want to get a better idea of whether a prospective house cleaner is the right match for your needs? Just ask them!
Unfortunately, not many people do this. All too many will only look at quotes and not do enough legwork to get a better understanding of the person they've just called.
There's a lot you can gather from just being upfront and asking questions. Gather questions that are relevant to your house cleaning needs and ask them during your first phone call to help determine whether or not they are the right fit for you.
Questions may vary from:
Estimated cost per hour or service
Insurance
Cleaning tools and equipment
Customer service
Customer guarantees
Don't be afraid to follow-up either – you can learn a lot about their professionalism and approach to work based on how they respond to probing questions.
Essentially, you'll want to treat your first phone call as a job interview!
5) Do a trial run
Lastly, when all the steps have been said and done, get on the phone and arrange a trial run for a handful of cleanings.
Why a handful? Simple: hiring a cleaner is a lot like trying new food. A negative experience the first time might simply be a fluke – a second trial will tell you for sure whether or not this is normal.
Trial runs will help you determine the quality of work that the cleaning company has and if your expectations can be met in return.
If you notice that the work isn't up to your standards, don't ditch the cleaner just yet – instead, politely talk to them at the end of your first trial about what they might be able to change next time.
If the issue isn't present the second time and you're satisfied, feel free to go ahead.
If not however, it may be time to start the search anew.
Bear in mind that this really only works if you plan on engaging your cleaner on a recurring basis. If you only need a house cleaner in Melbourne to help with spring cleaning, or to clean your house up before you move in or out, you'll want to put more stock into the other suggestions instead.
Choose the best house cleaner in Melbourne
Call the Masters today!
Our house cleaners in Melbourne have earned the title of Master Cleaners.
This is thanks to our unmatched skill, thoroughness and wide range of niche cleaning services. No matter what type of mess you need us to eliminate from your house, you can rest easy knowing that we're up to the job.
It isn't just that which sets us apart from other cleaners, however. Our cleaners are also trustworthy – a quality you can't overlook when it comes to your house!
Before being inducted into the Master Cleaners family, all of our cleaners are required to undergo a mandatory police check. Additionally, our specialist cleaners are also required to undergo the full certification and training process process.
All of this ensures that your home is treated with the care it deserves!
Contact Master Cleaners on 1800 11 2234 or fill in the form to reach our house cleaners in Melbourne. Whether it's to book a job, create a custom cleaning plan or ask us about our services, we'd be happy to hear from you.