More and more travellers are opting to skip hotels, motels and hostels in exchange for Airbnb properties.
While there are many reasons, one of the biggest ones (excluding price) is the unique, homely feeling Airbnb properties like yours provide.
Of course, if your property is dirty, it isn't going to give off that warm, welcoming vibe you're so keen to provide!
Whether your goal is to become a super host, polish the place up for some glamour shots or clean up after some disruptive guests, Airbnb cleaning is essential.
Too much to handle on your own? Can't take the time out to clean the place yourself?
Get in touch with a professional Airbnb cleaner in Hobart!
What should you look for in an Airbnb cleaner?
Okay, so you've decided that you need professional help cleaning out your Airbnb property. Before you hop on Google and start looking for Airbnb cleaners in Hobart however, there are a couple of things you'll want to look out for.
After all, choosing a dud cleaner can lead to you missing out on guests, and receiving poor reviews from those that do book!
So, what qualities do you need from an Airbnb cleaner? 
1) Reliability
Many of the clients our Airbnb cleaners in Hobart work with are on regular cleaning schedules. Our Masterful cleaners will be called in after a guest vacates, and tasked with the job of getting the place prepared for the next one.
As such, it's crucial that you choose an Airbnb cleaner in Hobart who you can trust to be there when they say they will, no matter how short the notice it is.
Say for example that a guest cancels unexpectedly, and you can't make time in your busy schedule to clean up on your own. Or that your property is left messier than usual, and there's only a short window to get everything cleaned up.
A good Airbnb cleaner will be able to send someone over on short notice to help out.
2) Flexibility
Many of our clients are after regular Airbnb cleaning to help turn the place over for upcoming guests. However, not all of them are.
In other cases, we're called in to help after a particularly messy guest. Say they decided to throw a small party – sure, you can claim the security deposit and leave a bad guest review.
Unfortunately, neither of these things will help with cleaning!
And what if it's been a while since you've done a really deep clean of the property?
There are a lot of different cleaning jobs we may be required to perform. This necessitates an extraordinary amount of flexibility from your Airbnb cleaner in Hobart.
Luckily for you, Master Cleaners has made a reputation for ourselves based on just that. Each of our cleaners is qualified to turn up at your Airbnb property and perform any cleaning job, and any type of clean.
A quick once-over? Sure thing.
A spring clean to prepare the property for peak season? You bet.
Whatever it is, we can do it!
3) Personalised service
You've got house rules for each guest. Likewise, you also probably have a very specific idea about how your property should be cleaned too.
Should the sofa cushions be puffed up?

Do balcony chairs need to be facing a particular direction?

Do bed sheets need to be folded in a specific way?
These are just some of the requirements that our Airbnb cleaners have encountered over the years.
We understand that you have high standards. That's why it's so important that your Airbnb cleaner is able to offer personalised service too.
When you first get in touch with Master Cleaners, we'll ask if your Airbnb has any unique cleaning requirements. We'll then work with you to create a custom cleaning program that covers all of your specific needs, no matter how esoteric.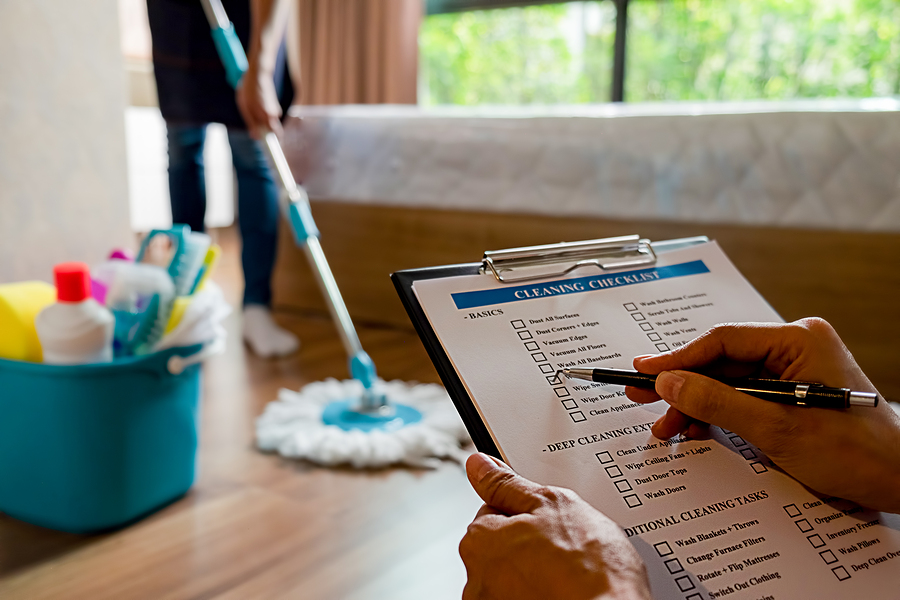 4) They offer various cleaning services
As we mentioned above, different Airbnb properties have different cleaning requirements depending on where it is in Hobart.
For example, a property in Howrah might put more focus on cleaning sand from the nearby beach, while an apartment in Hobart's CBD may not have to worry about that at all.
A good Airbnb cleaner should be able to clean:
Carpet and upholstery

Air conditioning ducts

Kitchens and ovens

Pool

Tiles and grout

Windows
No two Airbnb properties are alike – that's why it's important that your Airbnb cleaner offers a wide range of cleaning services. That way, they'll be able to offer Airbnb cleaning to suit your specific requirements!
5) They're good at what they do
This is the big one, isn't it?
Your status as a superhost and strong review score are at stake – you want to maintain these things, you'll need an Airbnb cleaner that's a superstar when it comes to cleaning and disinfecting.
You'll want someone who can do more than give everything a quick wipe – your Airbnb cleaner in Hobart will need to:
Remove dirt and dust from even the hardest-to-reach corners

Have an eye for presentation (first impressions matter!)

Understand how cleanliness affects guest wellbeing, and provide cleaning to suit (such as disinfecting kitchens)
You don't want someone who's only going to give everything a quick, surface-level wipe – you could easily do that yourself.
No, you want someone who you can trust to make yours feel like a 5-star Airbnb property.
The Airbnb cleaners at Master Cleaners employ a systematic approach in cleaning. Everything we do is governed by a checklist, which we create with your input.
In addition to setting out what needs to be cleaned, it also sets out standards. This ensures that every single area is properly cleaned and well-maintained in keeping with your expectations.
Call the Masters for Airbnb cleaning in Hobart!
Whether it's a beach house, a studio apartment or your spare room, cleanliness is essential to success as an Airbnb host.
And unfortunately, you won't always be able to look after it on your own.
Do you own multiple Airbnb properties in Hobart?

Don't have the time to do your own cleaning?

Has a guest left behind a mess that's far beyond your capabilities?
If this sounds like you, Master Cleaners' Airbnb cleaning in Hobart can help.
Our cleaners are the best in the business, with a focus on making your Airbnb property feel the cleanest it's ever been.
We've helped Airbnb properties all over Melbourne and Sydney with our world-class cleaning services. And now, we're bringing our trademark eye for detail and powerful techniques to hosts in Hobart too!
Contact Master Cleaners on 1800 11 2234 or fill in the form to get a quote on your Airbnb cleaning.