As an employer, you have to ensure that your business or commercial property is safe and comfortable for staff and customers alike.
That means looking at entry points, your fire escape, air conditioning, ventilation, emergency procedures… and of course, toilets.
According to SafeWork NSW, you must provide safe, accessible and clean toilet facilities.
The operative word? "Clean!"
Today, our commercial cleaners in Sydney explain why cleanliness is so important.
The importance of regular bathroom cleaning – why does it matter?
Safety from any health risks
Let's face it, bathrooms aren't exactly the cleanest of rooms. Unclean and unhealthy washrooms are a breeding ground for messes, germs and bacteria.
Needless to say, this can result in unexpected infections and illnesses among your staff, customers, and visitors.
Not to mention, uncleaned spills and messes present a slipping hazard, which can potentially result in avoidable accidents or injuries.
Hence, bathroom cleaning!
Build a good impression
You've introduced your team, demonstrated your equipment and given a tour of your site. Everything's going well – you're confident that you're leaving a good impression with your customer, partner or visitor.
Things are going well… until they ask you where the bathrooms are.
Impressions matter in business – even little things can subtly impact what your customers, partners and visitors think of you.
And that includes things such as how clean your bathrooms are.
While a clean restroom might not improve your image, a dirty one can certainly damage it! Regularly cleaning and restocking your bathrooms ensures that everything in your business is helping to create a good first impression.
Fight back against mould and mildew
As commercial cleaners in Sydney, we've seen first hand the consequences of mould and mildew.
And in our experience, restrooms are the most common place you'll find them!
Mould and mildew love bathrooms. The only way to stop them from taking hold is to wash out all your corners, nooks and crannies on a regular basis.
Cleaning a commercial bathroom (and how a commercial cleaner can help!)
Alright, so now you know why it's so important to clean your bathroom on a regular basis. There's only one question left: how should you plan your cleaning for maximum effect?
Create a commercial bathroom cleaning schedule and checklist
Whether you run an office, shopping centre, restaurant or a factory, it's essential that you  create a cleaning checklists.
In particular, you should include:
Timetabling and scheduling
Restocking supplies (toilet paper, soap)
Specific cleaning duties (mopping, wiping)
Required cleaning products
This cleaning checklist helps your staff successfully carry out any unexpected cleans. Not to mention, it also gives commercial cleaners like us a starting point!
Schedule restroom deep cleaning
Polishing the mirrors and mopping the floor are important cleaning tasks.
Most of the time however, they're insufficient for most larger cleaning jobs!
If you want to eliminate the risk of mould and mildew, you'll need a deeper, more thorough clean.
Bathroom deep cleans go beyond just wiping down surfaces –  it also involves cleaning hard-to-reach areas and areas that don't get cleaned very often, such as:
Tiles and grout
Vents, fans, sprinklers, and lighting fixtures
Underneath cabinets
Don't have the time to get to all these hard-to-reach areas? Let a professional help – our commercial cleaners in Sydney are up to the job!
Do you need specialist cleaning methods?
Sometimes, a bathroom deep clean requires products and tool sthat are just out of your reach.
For example, ducting and vent cleaning. This job requires specialist vacuum cleaners to reach the dust and debris that tends to build up inside venting.
In other cases, mould and mildew might not come off with conventional products. To get rid of them may require special cleaning agents, or even steam cleaning machines.
Hire a professional commercial cleaning service
While it's tempting to hand the task of bathroom cleaning to your staff, the truth is that sometimes, that simply isn't feasible.
Not only are certain jobs like bathroom deep cleaning just too much to handle, but toilet cleaning just isn't all that pleasant.
Even if your employees have time to dedicate towards bathroom cleaning (not always a guarantee), for many it isn't exactly a task they're willing to perform.
Luckily for you, our commercial cleaners in Sydney are up for the task.
Hiring a professional commercial cleaning service ensures a deeper, more thorough clean. Moreover, it also ensures that your bathrooms get cleaned without taking time away from your team's vital tasks.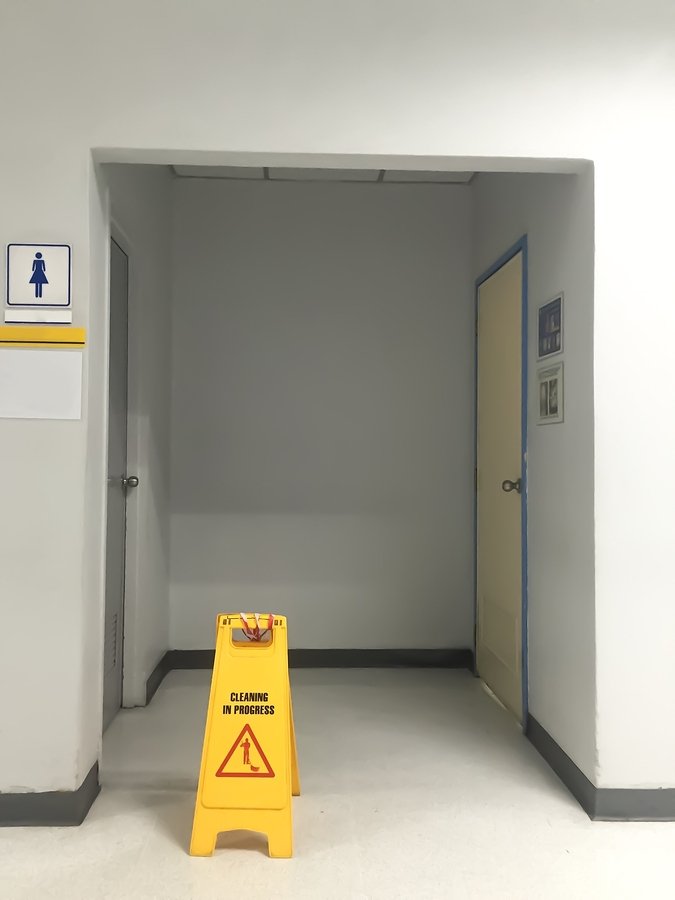 Looking for a commercial cleaner in Sydney?
Call the Masters!
In addition to cleaning out a variety of different businesses and facilities, our commercial cleaners can also look after your bathrooms too.
If needed, we'll include bathroom cleaning as part of your custom cleaning package. Using our unrivalled skill, experience and equipment, our commercial cleaners in Sydney ensure that your bathroom is spotless.
If you have a job that's too tough, hard or big to handle on your own, give us a call,  ASAP – contact Master Cleaners on 1800 11 22 34, or fill in the form to find out how our commercial cleaners can help your business.