You've just finished building your dream home or renovating your old one. The paint is dry, the tiles set and the plumbing works.
Unfortunately, you can't move in just yet – not without cleaning the place out, at least!
While your builder may have done their best to clean everything up for you, nine times out of ten there's still plenty of debris and dust trapped in your carpet, on your walls and hidden in corners.
Needless to say, those are the last things you'll want to be sharing your home with!
So, how should you go about new house cleaning?
Get everything ready
Cleaning a whole house can be a tough job. Not just in the sense that you'll have to deal with some stubborn messes – they're also big, time-consuming jobs!
If you ask us, complete house cleaning is the type of thing you need a plan to tackle. We recommend:
Organising the essential tools and materials you'll need
Dividing your home into more manageable areas
Creating a rough timetable and scheduling work
On top of those, it's also a good idea to get as much help as you can. If you have friends or family you can talk in lending a helping hand, do so.
Another pointer: you don't need to get everything done in the one weekend.
Certain messes might prove to be bigger than anticipate, or work may go slower than planned. Either way, there's no shame in not getting everything done at once!
Your new house cleaning checklist
1) Dust-off surfaces
Dust is your number one enemy when it comes to deep cleaning a newly constructed home. You'd be surprised how much of it can build up!
Be sure to use a face mask when cleaning up dust, as inhaling dust can aggravate respiratory conditions.
We also recommend using techniques that won't kick up dust everywhere – all you'll be doing is moving the dust elsewhere!
Instead of the trusty old feather duster, we suggest using a vacuum cleaner to remove dust entirely. Once that's done, follow up using wet wipes or cloths to remove anything you might have missed.
2) Disinfect
Cleaning and disinfection go hand-in-hand – this is especially true when cleaning a newly constructed house!
Now, we're not suggesting that your builders are leaving germs everywhere. What we are saying however is that certain areas of your home require the utmost cleanliness before you use them:
Kitchen
Bathrooms
Showers and bathtubs
Taps and faucets
On top of that, it's also a good idea to disinfect any areas that may have seen a lot of use during construction – in particular, door handles and railings.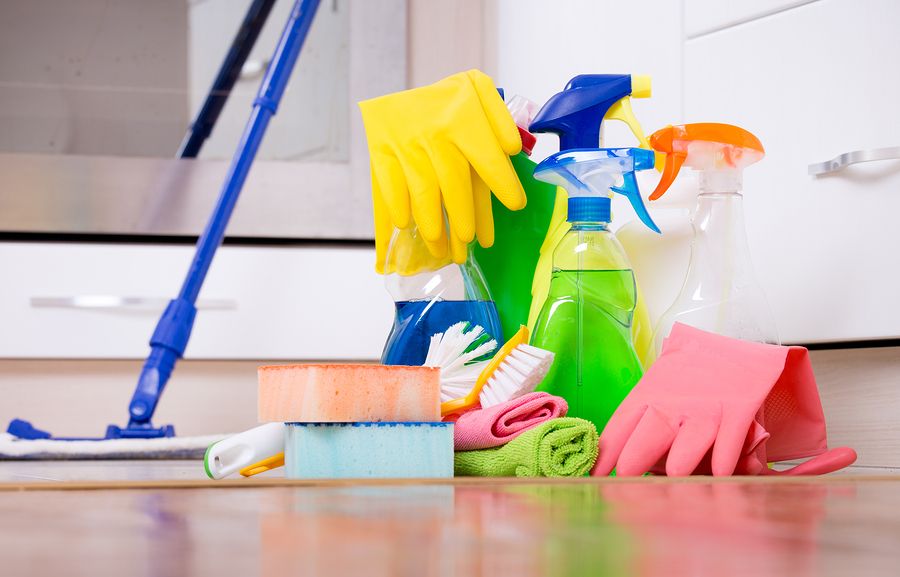 3) Clean your air filters and air vents
Construction kicks up a lot of dust and debris. While your builders will do their best to clean everything out, a lot of this dust and debris may have already settled in your air filters, ducts and vents.
Needless to say, you'll want to give these a bit of a clean too!
We suggest vacuuming air filters and use microfiber cloths to wipe dust away from your air vents and ducts. We also suggest calling a professional cleaner to reach even deeper into your vents and ducts!
4) Carpet cleaning
If you ask us, carpets are one of the most troublesome parts of cleaning a newly-constructed house.
That's because carpet fibres have an annoying habit of trapping dust, debris, paint and dirt. And, while giving it a vacuum helps, by no means is it a deep clean!
To deep clean your new carpets, you'll want to use special carpet cleaning techniques. Steam cleaning and hot water extraction are two methods that are effective in giving you a clean carpet.
5) Get rid of the smell
Newly-constructed homes have a unique smell to them. We in the cleaning business call them VOCs – Volatile Organic Compounds.
These compounds are a combination of:
Fresh paint
Sealant
Flooring
Wood and sawdust
Chemicals
What you'll want to do is let your house air itself out. Another tactic is the "bake-out" – the idea is to pump the heating up for a couple of days. This evaporates chemicals from materials and finishes.
You can also go over trouble spots using odour removers, air fresheners and cleaning solutions.
Hire an after-build construction cleaner
It isn't just homeowners that need to think about cleaning either – so too do builders!
As a builder, you need to hand over a clean home. Not only does this ensure the residents' comfort, but it also reflects well on you.
The thing is, it's a bit of an ask, getting your builders to look after cleaning too – especially after spending so much time working on your project!
Not only does professional after-build cleaning services give your team of builders and contractors some well-deserved rest, but it also ensures you'll get a deeper, more thorough clean!
At Master Cleaners, we provide after-build cleaning for a huge range of construction projects, including:
Houses
Offices
Retail spaces
High-rise buildings
Using special equipment and products, we provide a deep clean for your site. And that means a happier client!
Click here to learn more about our after-build cleaning services.
Call Master Cleaners for new construction cleaning
Whether you're a homeowner or a builder yourself, cleaning is crucial.
Can't do it all on your own? Call a Master!
Master Cleaners readies your property for occupancy using effective cleaning solutions. We specialise in big, tough cleaning jobs – no mess is too tough or too dirty for us to handle.
Contact Master Cleaners at 1800 11 22 34, or click here to request a quote for your cleaning requirements.