Let's face it: house cleaning is no fun. Instead of getting to enjoy your weekend, you're scrubbing, brushing and vacuuming when you'd much rather be watching afternoon footy, catching up on your favourite show or just spending time with the kids.
Is you ask our home cleaners in Sydney, your weekend should be yours to enjoy, and not taken up with chores.
Luckily, there are ways to make it easier!
Tip #1: clean as you go – don't let messes pile up
The best way to make weekend chores go by faster? To be extra-thorough and organised in your day-to-day.
We aren't just talking about cleaning up after dinner, either – after coming home from work or before going to sleep, check for small messes that have been lying around your house that you can fix then and there.
That pile of envelopes? Sort through them before you go to bed.
Those soap stains in your shower cubicle? Give them a quick wipe with Windex.
The clothes that litter your bedroom floor? Take a couple of seconds to organise them.
It may not sound like a lot, but many of these "I'll do it later" tasks can add up – especially if you have a lot of them at once!
Another good idea is to set aside 5-10 minutes each day to small cleaning jobs like quickly dusting corners. It takes barely any time, but it can make your weekend chores go just that little bit quicker!
Tip #2: find something to make the time go faster
Cleaning doesn't have to be boring anymore!
If you keep putting off cleaning because you think it'll be a drag, we suggest finding a podcast or audio book you love.
Simply put, having something to listen makes time go just that little bit faster!
Whether it's a true crime podcast, an audio book of your favourite novel or a TED talk, we suggest popping in your headphones and playing something you like to make the time go quicker.
It's a small change, but it can make the time fly by!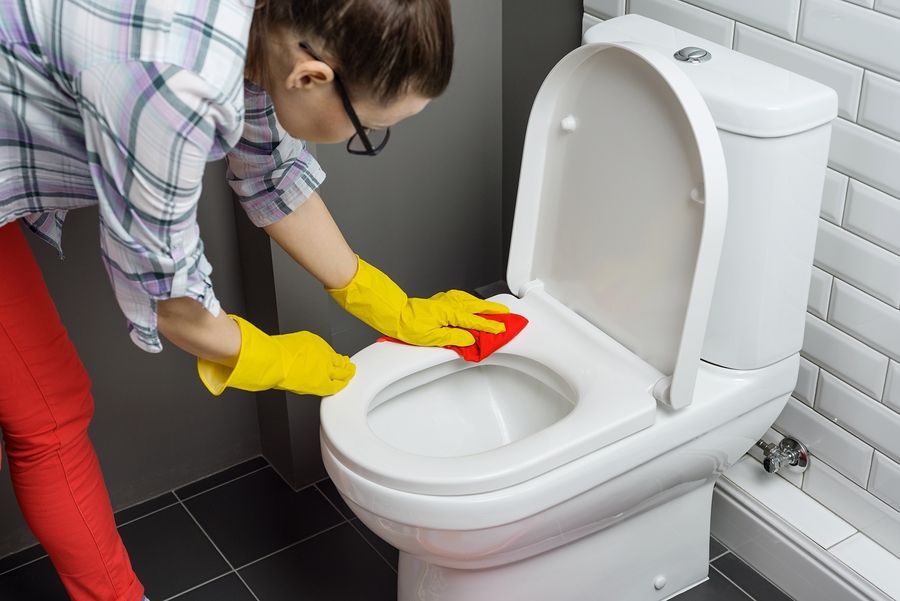 Tip #3: Pay attention to those hard-to-reach areas
When cleaning, don't just pay attention to what you normally see everyday – it's important that you check and clean hard-to-reach areas such as:
Cabinet tops
Behind the toilet
Corners and ceilings
Under the furniture
Ovens
Tiles and Grout
The reason we suggest paying attention to these areas is because they're major trouble spots when it comes to messes and stains – in fact, they're the most common problem our home cleaners in Sydney encounter when cleaning clients' houses.
Now, we aren't saying you have to scrub these areas out every weekend – once a month will do the trick.
This helps keep messes here to an acceptable level, and means you won't have to waste even more time when these areas reach a stage where you simply can't ignore them any longer.
Tip #4: create a fixed cleaning schedule
It sounds basic, we know – however, you'd be surprised how many people don't schedule their cleans out!
If you don't know where to begin with planning out your cleaning, we suggest starting with a list of all the cleaning tasks in your home.
Once you have those, we suggest categorising them by frequency – sort them into daily, weekly, fortnightly, monthly, and even yearly cleaning tasks.
Once you have this, create a cleaning calendar, establishing which tasks require weekly attention and scheduling those that don't.
Another good idea is to tick off cleaning tasks as they're completed. This ensures that no ongoing cleaning tasks are missed, and that your home stays clean.
And while you're here, don't be afraid to share the burden by delegating cleaning tasks to your family members.
Tip #5: Don't be afraid to ask for help
Lastly, if you don't have the time and energy to do all the cleaning on your own, don't be afraid to touch base with a professional cleaner.
A certified home cleaner in Sydney like Master Cleaners can handle all of those messes that are too:
If you worry that your household messes are becoming too much for you to handle on your own, hand it off to a pro!
They'll tackle your household messes with powerful cleaning products and proven cleaning techniques, ensuring that your home is free from even the most stubborn stains.
When looking for a house cleaner, be sure to ask around and check their credentials. Click here to learn how to choose the right home cleaner.
Clean your home and your property with the help of the Masters!
Are you tired of seeing and living in a messy home? Let Master Cleaners do the cleaning tasks that you can't.
Whether it's taking over your weekly cleans or performing a deep clean in preparation for spring, Master Cleaners can help.
Our group of expert cleaners in Melbourne ensure that your house will be clean just like before.
Our home cleaners in Sydney also offer specialised cleaning services in hard-to-reach areas such as:
Just point us in the direction of your mess and we'll Master it!
Contact Master Cleaners on 1800 11 2234 or fill in the form to request a quotation from us today.