Cleanliness is king – especially when it comes to making a good first impression with your business.
So it's no surprise that businesses of all sizes decide not to risk it, and instead opt to hand off their cleaning to a commercial cleaner in Melbourne.
If you ask us, this is the right decision to make – you won't regret it when you see the quality of work a commercial cleaner like Master Cleaners can do for you!
So you've decided that your cleaning is too important to DIY. Alternatively, doing your own cleaning would force your staff to stay behind after closing, and you simply don't want that to happen.
You pick up the phone and start dialling a commercial cleaner in Melbourne.
What can you expect from them going forward?
A deeper clean for your business
When you call our commercial cleaners in Melbourne, you aren't just getting a quick spray-and-wipe – you're getting a genuine professional.
Cleaning is what we do – and between you and us, we're pretty darn good at it!
In addition to vacuuming and dusting, our cleaners also perform periodic deep cleans for our commercial clients. During production breaks or quiet periods, we can essentially break down your workplace, reaching and cleaning hidden or stubborn messes.
Not to mention, a professional commercial cleaner knows to clean areas that your employees may never think of.
For example, during our routine cleans, we may also:
Clean and disinfect rubbish bins
Clean cupboards
Behind tables and under desks
At Master Cleaners, we hire cleaners that are darn good at what they do. We take a procedure-based approach to cleaning, ensuring that all cleaning jobs are carried out to the same standard and pass the spot test.
Professionalism
Your commercial cleaner is a consummate professional – when we come in, make it our mission to show a high level of professionalism.
We know that you might not associate our trade with professionalism, which is why we hold ourselves to high standards when we come in. Your commercial cleaner is:
Punctual
Polite
Clean and well-presented
And all of this professionalism translates to higher-quality cleaning service for your company or businesses!
Additionally, each of our commercial cleaners in Melbourne are also fully-insured, and undergo mandatory police checks before being formally made a Master Cleaner.
Complete cleaning services
No two businesses are alike. You have different products, policies, operations… and of course, different cleaning requirements!
Luckily for you, commercial cleaners like Master Cleaners specialise in big, tough and time-consuming cleaning jobs.
In addition to all the standard workplace messes, we also offer a range of specialised commercial cleaning services, including:
It's thanks to this that we're able to clean any business or commercial property, whether it's a restaurant, retail store, factory, or anything else!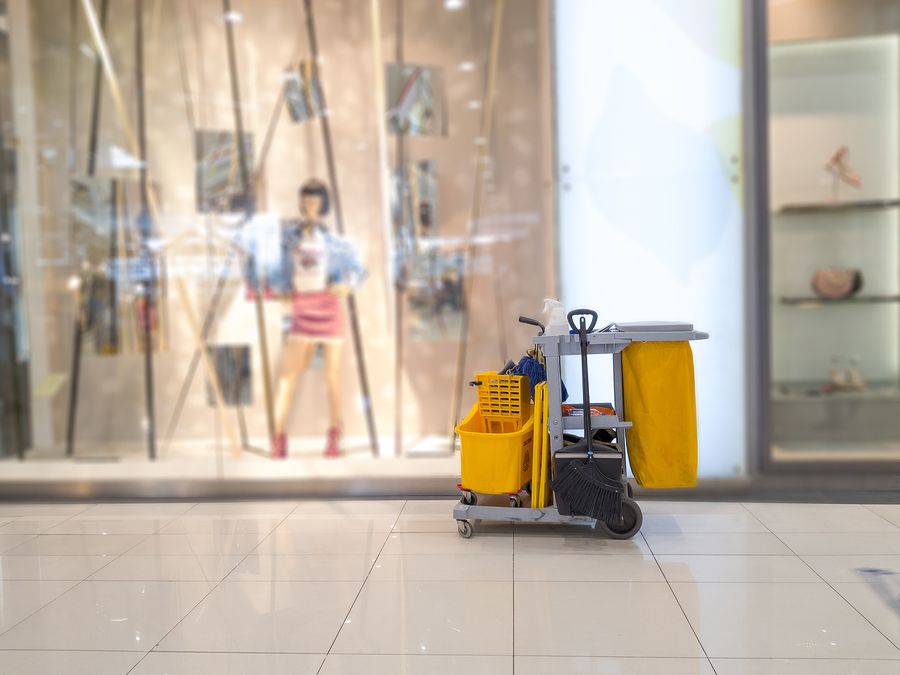 A custom cleaning plan
Like we mentioned above, no two businesses are alike.  In order to hit all of these points, you'll need a unique cleaning plan that accounts for your cleaning requirements.
During your first conversation with us, our commercial cleaners in Melbourne are busy sussing out what your site requires.
We'll ask you about things like:
Your opening hours
Site size
Specialised cleaning needs
Holiday periods
Specific trouble spots
Industry
Number of visitors
Equipment and materials
Armed with this knowledge, we create an individual cleaning plan that covers your entire site without disrupting your operations, or forcing delays.
We'll schedule cleaning around your opening hours and holiday periods, minimising disruptions. We can come in after-hours, during holidays, during your quiet season… just tell us and we'll work around it.
Expect only the best from a commercial cleaner in Melbourne
So now you know what to expect when you start looking for a commercial cleaner in Melbourne.
Now comes the next step: finding a commercial cleaner for your business!
Master Cleaners is a team of expert commercial cleaners in Melbourne and Sydney who are committed to providing excellent cleaning services to all customers.
What can you expect from our commercial cleaners in Melbourne? It's simple:
A cleaner workplace
Healthier staff
Better first impressions
Book one of our Masterful commercial cleaners today by calling 1800 11 2234 or fill in the form to finish any commercial cleaning tasks that you need today.