As many of us know, there seems to be a direct relationship between unpleasantness and importance. For example, the more disgusting medicine tastes, the more important it is for your health.
Cleaning is no different in that regard.
"Bathroom cleaning" –  just the mention of the word can make many homeowners groan.
For many, bathroom cleaning isn't their favourite cleaning task – far from it.  If you leave it for long enough, however, it will come back to bite you.
Bathroom messes won't just affect you aesthetically, either – a dirty bathroom can be ground zero for all sorts of bacteria and germs, leading to all manner of infection and illness.
And these mistakes we're about to share can make it even worse!
Make your bathroom cleaning easier and sit back while our cleaning service in Melbourne explains the most common mistakes we see…
Mistake #1: Not cleaning the toilet brush after use
You may occasionally use the toilet brush to clean up the toilet bowl… but what happens to the brush after you're finished with it?
If you're like most people, you simply pop it right back to its container.
The thing is, toilet brushes are one of the dirtiest parts of your bathroom – doubly so since brushes are rarely cleaned. And the toilet brush container is an even worse offender!
To avoid this, we strongly recommend washing and drying out your toilet brush and container once you're done with them.
Instead of popping it into its container, carry the whole thing outside and thoroughly soak it with water and disinfectant to kill any lurking bacteria.
Once that's done, be sure to let it dry before bringing it back indoors, as moisture can turn anything into a breeding ground for germs and bacteria (they just LOVE wet and damp areas!)
Mistake #2: Not dusting before cleaning
Okay, so this mistake extends beyond the bathroom. That said, you should know anyway!
We get that you  want to get the job done as soon as possible.
However, that often leads to this crucial step being overlooked – a major mistake that homeowners make! Instead of prepping the area by dusting it, they go directly to wiping the tiles, toilet cistern, and bench.
The problem with not dusting off beforehand is that all sorts of dirt, dust, and other debris that can cluster, creating little clumps and mixing in with your cleaning product and water.
All of which can make cleaning harder and even leaving a visible streak of dust sticking on your tiles and bathroom fixtures!
The best way to avoid this? To vacuum or wipe away the dust first before scrubbing and cleaning everything else.
Click here to discover the best ways to eliminate dust.
Mistake #3: Only cleaning what you can see
You polish the mirror, scrub the toilet bowl and wipe down the bench.
Cleaning the visible areas such as lavatories, toilet seats, and showerheads are not enough to say that you've cleaned almost every part of the bathroom.
But how much attention are you paying to the parts of the bathroom that you can't see?
We're talking about all those hidden corners like:
Behind toilet bowls
Inside cisterns
Inside cabinets
Your drains
Dust, bacteria and moisture can accumulate over time in these areas. Over time, this can lead to all sorts of unwelcome messes.
The only way to safeguard your health is to ensure that all of these areas are taken care of!
Don't worry, you usually won't need to clean these areas on the daily – in most cases, periodic deep cleans will do the trick.
Mistake #4: Not using disinfectant
While soapy water can remove visible stains and messes, it's the invisible ones that are the riskiest. In particular, we're talking about bacteria and germs in your bathroom.
In many cases, they can linger even when the visible evidence is cleaned!
That's why we recommend following up with household disinfectant – better yet, use cleaning products that already have disinfecting properties!
In particular, you'll want to target hotspots like:
Toilet flush buttons
Toilet seats
Doorknobs
Taps
Mistake #5: ignoring your tiles and grout
Did you know? The dirtiest part of your bathroom may not be the toilet bowl or shower cubicle at all – it could be your tiles!
In particular, grout (the spaces between tiles) are especially problematic.
That's because grout is porous, and takes on water… and with it, all sorts of bacteria and germs.
The thing is, most homeowners don't know this – as such, tile grout gets minimal attention, allowing this problem to fester!
In addition to bacteria and germs, grout is also ground zero for mould and mildew growth.
If you want to avoid these, you'll want to give your tiles and grout a good, thorough clean.
Don't know where to start? Engage our tile and grout cleaning service in Melbourne.
Mistake #6: doing it on your own
Most of these messes can be cleaned on your own, thankfully.
However, if it's been a while since your bathroom was last cleaned, these problems can build up to the point where it's virtually impossible to clean on your own.
And for all the business owners out there, do you really want to add bathroom cleaning to your list of admin and maintenance tasks (especially if your site has multiple?)
Instead of cleaning your bathrooms on your own, why not hire a professional cleaning service in Melbourne to do it for you?
We'll attack your bathroom messes using the right tools, equipment, and methods of cleaning, transform your space into a pristine, safe, and healthy space with daily, weekly, and monthly cleaning.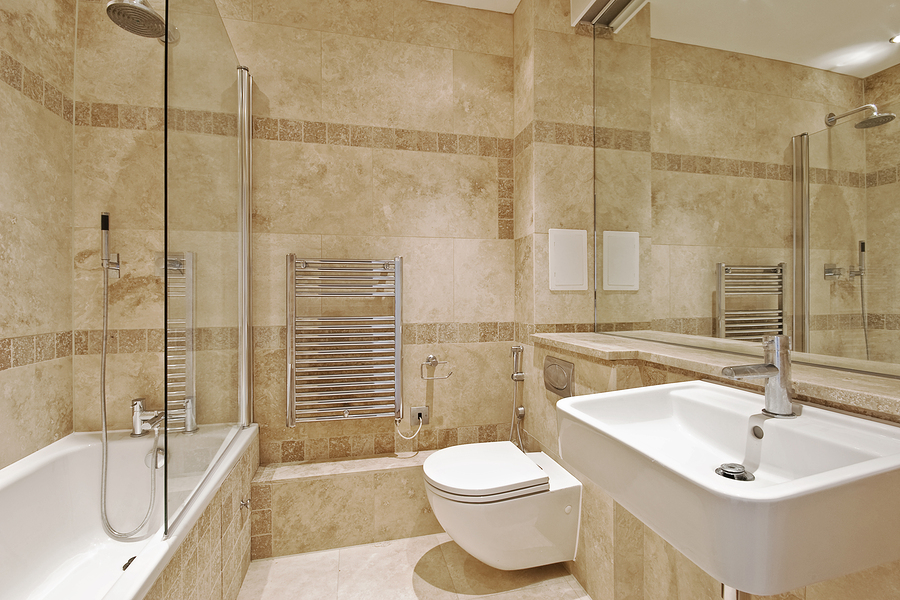 Ensure a cleaner and healthier bathroom with the help of our Masterful cleaning service in Melbourne!
Whether it's bathroom of a luxury house or a large commercial property, cleanliness is king.
And that's where our cleaners come into the picture.
Our team of qualified and professional cleaning service ensures that all areas of your home property are clean and properly maintained – and that includes the bathroom.
Each of our clients is presented a unique cleaning plan that accounts for their requirements. This ensures that we leave each property we work on exactly the way you want it.
Contact the Masters today on 1800 11 2234 or fill in the form to get in touch with us today.