Despite the name, stainless steel is anything but – in fact, its "stainless" quality refers to its rust-resistance rather than any inherent resistance to messes.
As such, you can't afford to ignore steel surfaces in your home cleaning routine!
Of course, cleaning stainless steel and other metal surfaces comes with a range of unique requirements and considerations which you'll need to remember if you're to keep all your metal surfaces clean and spotless.
Over the years, we've performed cleaning jobs that involve cleaning many stainless steel surfaces, such as industrial and commercial kitchen cleaning.
How can you keep these clean? Fortunately for you, our commercial cleaners in Sydney are here to explain.
Some of the properties we've cleaned include huge restaurants and factories filled with stainless steel surfaces and equipment. Needless to say, we can provide some advice on how you can keep your stainless steel surfaces clean!
Common metal and stainless steel contaminants
Our Masterful cleaning service in Sydney has dealt with all sorts of surfaces – that includes metal and stainless steel.
Whether it's a restaurant or your home kitchen, stainless steel is a staple of many a kitchen.
And since it's so common in kitchens, it will also probably make up a considerable amount of the kitchen cleaning you'll be doing!
You may find yourself cleaning…
Food stains
Let's face it, kitchens can get dirty. Little surprise that food stains are some of the most common messes you'll have to deal with!
Once they've had time to dry out, food stains can be incredibly difficult to remove.
Luckily, the right products make it a breeze. Jif is especially powerful – just be sure to rinse the surface off afterwards however, as Jif has a habit of leaving…
Watermarks
Just like how cleaning glass often leaves streaks, so too does cleaning stainless steel.
Luckily, watermarks are considerably easier to remove. A quick wipe will do the trick in most cases, and if not, dried watermarks can be removed using vinegar and lukewarm water.
Yep, it's really that simple!
Oil
Unfortunately, oil isn't quite as straightforward!
When removing oils with isopropyl alcohol or acetone, be careful – such products can be extremely flammable. This is especially important when cleaning around cooktops.
We recommend using degreaser for the strongest stains, combined with a tough sponge.
Don't have any degreaser on you? Consider mixing water with citrus – while not as effective, it can be surprisingly effective at removing light and moderate oil stains around the house.
Adhesives
Is there an annoying sticker on one of your new appliances that you want to remove?
Stubborn adhesives from stickers can be a pain, we know – especially when they start catching dust and leaving behind ugly marks!
To remove these, we suggest using rubbing alcohol like methylated spirits or xylene to remove the sticky residue. Follow up by spritzing the area with glass cleaner to remove any leftover adhesive.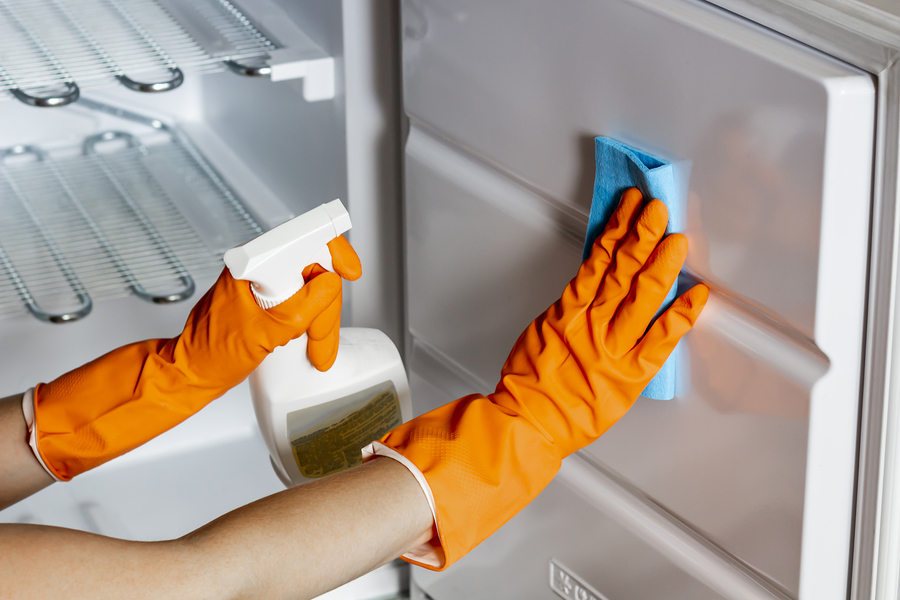 What you need to know about cleaning stainless steel
 Avoid metal sponges
We know, they're great at removing the really stubborn messes (such as grease stains in stainless steel range hoods).
However, using metal sponges comes with risks!
In particular, you might scratch off parts of the surface, which can cause a range of problems.
For starters, it can affect the appearance of your kitchen. Imagine a stainless steel fridge or cooktop marred by obvious stains.
And for commercial kitchens, it can pose a health risk too – while the chances are low, scratches can provide a haven for bacteria and germs (incidentally, this is also why most people recommend changing chopping boards every couple of months).
As such, we suggest treating metal sponges as a last resort. Instead, you'll want to stick with tough sponges and non-abrasive, non-scouring pads. Gently scrub in the motion of the manufacturer's polishing marks.
Follow the grain
Does your stainless steel surface have a visible grain to it? If so, you're in luck – that's essentially a guide for how you should clean!
When it comes to stainless steel, you'll want to scrub following visible lines or grain, rather than in the standard circular motions.
This will help you maintain that brushed finish on your stainless steel surfaces.
Use non-chloride cleaners
As a general rule, we suggest avoiding chloride cleaners and hydrochloric acid (muriatic acid) when cleaning your metals and stainless steel.
That's because chloride and hydrochloric acids are extremely corrosive, and can leave your stainless steel surfaces corroded and stained.
Be sure to check what grade your stainless steel is if possible. If you aren't sure if your surfaces are resistant, we suggest holding off and instead sticking to safer options like Jif.
Tough dirt and stains? Call a professional cleaning service in Sydney
Got a lot of stained stainless steel on your property? Is it simply not coming off, no matter how hard you try?
Luckily for you, our masterful commercial cleaning service in Sydney can look after stainless steel surfaces as well.
In particular, we work closely with restaurants, cafes and hotels to provide commercial kitchen cleaning.
The huge amount of stainless steel found in most commercial kitchens means a lot of work. Little wonder that so many of our hospitality clients have come back to us wondering why they ever tried to clean out their kitchens on their own!
As professional cleaners, we're experienced with stainless steel. We have the experience and skill to clean stainless steel without damage.
Customised commercial cleaning in Sydney
Whether it's a new piece of stainless steel equipment that you want to clean out before you install it in your workplace or regular nightly cleans, if it involves mess, we can Master it!
Our Masterful commercial cleaners in Sydney work hard to ensure that your surfaces – stainless steel or otherwise – are thoroughly cleaned from top to bottom.
Whether you need commercial kitchen cleaning, a deep clean before moving into your new business premises or simply want to take some FOH cleaning off your staff's shoulders, our commercial cleaners in Sydney are the team to call,
Contact us on 1800 11 22 34 or fill in the form to get in touch with us today.