Cleanliness is key in hospitality. Not only is a dirty kitchen unpleasant, but it can also lead to an outbreak of sickness and food poisoning in your restaurant, hotel or commercial kitchen!
Commercial kitchen cleaning in Melbourne ensures that every inch of your kitchen is free from bacteria, preventing any foodborne outbreaks from happening.
While your kitchen staff do their best at the end of every night to maintain a spotless kitchen, there are some times that they have no time for it.
Kitchens are busy workplaces, after all. Not to mention, a lot of the deeper messes can take hours to remove – time you may not have.
And that's where the expertise of a commercial kitchen cleaner in Melbourne comes into the picture..
No job is too tough, too dirty or too big with the Masters! 
What does commercial kitchen cleaning involve?
1) Countertops and hard surfaces
Kitchen countertops and hard surfaces are often used as food preparation areas. They're also a hotspot for bacteria and other nasty organisms.
As such, they're one of the first targets our commercial kitchen cleaners in Melbourne go after.
While your team no doubt goes over these surfaces every night, our commercial kitchen cleaners also thoroughly clean surfaces using powerful no-toxic products. After all, you can never be too safe when food's involved!
It isn't just benches either – we'll also scrub down other surfaces your team may not have time to clean, such as the tiles and grout that make up your wall (more on that later!)
2) Commercial kitchen appliances and equipment
Just to be clear, we aren't talking about stove tops and kitchen utensils – no doubt your team takes great care of those.
No, we're talking about the things that don't get cleaned quite as often.
A great example is the insides of ovens. Over time, all sorts of messes can build up here in:
Some of these areas are hard to reach and time-consuming to clean.
Another great example is range hoods. Ideally, your team will perform a scrub each night as part of your commercial kitchen cleaning routine to prevent grease from building up.
If you haven't however, it may require help from a professional to get rid of these stubborn messes.
Luckily, our commercial kitchen cleaners are experienced in taking care of large, stubborn messes such as these!
3) Exhaust fans and vents
Don't forget the importance of maintaining good air quality in your commercial kitchen. Imagine working in a kitchen where the ventilation doesn't work – no thanks!
A clean and healthy airflow in your kitchen starts with cleaning all your air vents and exhaust fans as often as possible.
As part of your kitchen deep cleaning, our commercial cleaners in Melbourne will wipe down and dust off all your vents and fans, removing grease and grime and maintaining a healthy airflow in your commercial kitchen. 
4) Kitchen floors, walls and ceiling
 While they may not directly come into contact with food, dirty walls are still a risk. That's why our commercial cleaners include it in our deep cleaning services!
Food spills and stains don't just make your floors, walls, and ceilings messy but prone to bacteria and dirt as well.
Tiles, in particular, are big trouble spots. Grout (the filling between tiles) is highly porous – it absorbs moisture and bacteria.
It's these qualities that make it the perfect place for mould to grow!
As part of our kitchen cleaning services, our commercial cleaners go after tiles and grout, removing messes and protecting you from mould, mildew and other infections.
5) Kitchen storage areas
You spend a lot of time focused on kitchen benches and cooktops. But what about storage areas?
In our experience, storage areas are one of the most overlooked areas.
Of course, that doesn't make it any less important!
In addition to looking after your kitchen, our commercial cleaners can also clean your storage areas and walk-in fridges, getting rid of dust, grim and cleaning out corners for a restaurant or hospitality business that's clean inside and out.
6) Commercial kitchen bins
You take out the bins each night. But what about your bin areas?
Due to the amount of rubbish they deal with, bin areas are extremely prone to messes and bacteria. To prevent this, they need to be regularly cleaned and periodically disinfected – something our commercial cleaners can do for you.
Whether it's inside or out, we'll wash down the area, being sure to get into corners. If it's indoors, we'll disinfect eh surrounding area as well, just in case!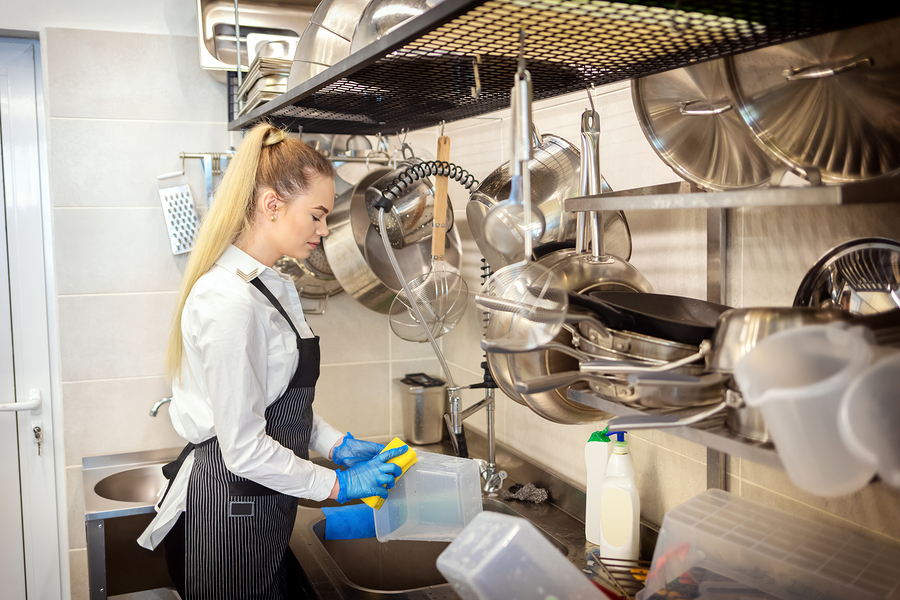 Choose the Masters for commercial kitchen cleaning in Melbourne and Sydney
Hospitality work is hard yakka. You've got to cook, prepare ingredients, clean up… it's a lot of work.
Add the time and effort that come with deep cleaning a commercial kitchen, and it's clear to see why so many resort to calling our professional commercial kitchen cleaners in Melbourne and Sydney!
Need a deep clean for your commercial kitchen? Enlist the help of the Masters!
Our mission is simple: to keep your commercial kitchen free from mess and bacteria that can cause food poisoning and other infections.
Think of the deep cleaning and sanitisation process as getting all of the messes that you can't reach during your regular nightly clean. We aren't replacing it – we're just making sure that nothing's been missed.
Tell us how often you need your commercial kitchen cleaned, and we'll work out a plan for you. Whether it's once a week, once a month or once a quarter, our commercial cleaners in Melbourne and Sydney can accommodate.
Our team also provides you with specialised cleaning solutions such as:
What are you waiting for? Contact the Masters today on 1800 11 2234 or fill in the form to get in touch with us today.