Moving house is stressful. 
Whether you're moving across town or across the country, have done it once or a dozen times, or are moving out with friends or your new partner, that fact doesn't change.
You have to organise packers and movers, schedule time off work, and time everything so you're not wasting money paying rent at your new place while you wait for your current lease to expire. 
There's a lot of planning and effort that goes into moving house.
One such effort you shouldn't have to worry about?
End of lease cleaning.
We know there's a preconceived assumption that landlords will pick apart even the smallest of issues, doing whatever they can to retain even a partial amount of your bond,.
And in terrible cases this may be true, but for the most part, all your landlord is looking for is for their tenant to show their property respect with reliable and thorough end of lease cleaning.
If the clean does not meet their often strict standards, they may have the right to withhold your bond. That's why it's so important to choose a professional who understands the strict requirements of landlords, and will maximise your chances of getting your bond back in full.
End of lease cleaning explained
In this busy world, sometimes you find no time to squeeze in your schedule the cleaning task, even if it is your genuine desire to return the house cleaned and maintained, and you want to do this before your lease expires.
Just as you hire an accountant to do your taxes properly or a locksmith to get you back into your car, you choose a cleaning company focused on delivering superior end of lease cleaning that guarantees you'll get your bond back.
The end of lease cleaning process involves a detailed list of cleaning tasks for your property, whether you've been renting an apartment, a home, or an office space. 
As tenants, it's likely part of your agreement that you will thoroughly clean the property, returning it to the state in which you entered it (except for general wear and tear).
End-of-lease cleaning is more than just ordinary house cleaning, which is why specialised cleaning professionals are needed in this industry.
But before choosing an end of lease cleaner, make sure you understand exactly what's involved in their process, and if they guarantee your bond back. 
What's included in end of lease cleaning?
In summary, end of lease cleaning covers the following broad areas:
General cleaning

Kitchen cleaning

Laundry cleaning

Bathroom cleaning

Carpet cleaning

Floors and skirting boards 

Window cleaning

Rubbish removal
Ensure that your professional cleaners meet the following services or at least most of them.
General cleaning
This includes cleaning all surfaces including walls, floors, and windows, as well as removing dust, cobwebs, and any other built-up grime.
Vacuuming and mopping and steam cleaning carpets restores them to their former plush glory!
Kitchen cleaning
This includes cabinets and shelves, stovetops, and grime in sinks and drains.
We clean and polish floors and walls, while our oven cleaning removes even the toughest stains and grime.
Bathroom cleaning
When cleaning bathrooms, health and hygiene is our top priority.
Top-down bathroom cleaning ensures your walls, tiles, bathtub, shower, toilet, mirror, and floors are spotless.
Specialised tile and grout cleaning removes ugly mould or stains, leaving your bathroom gleaming.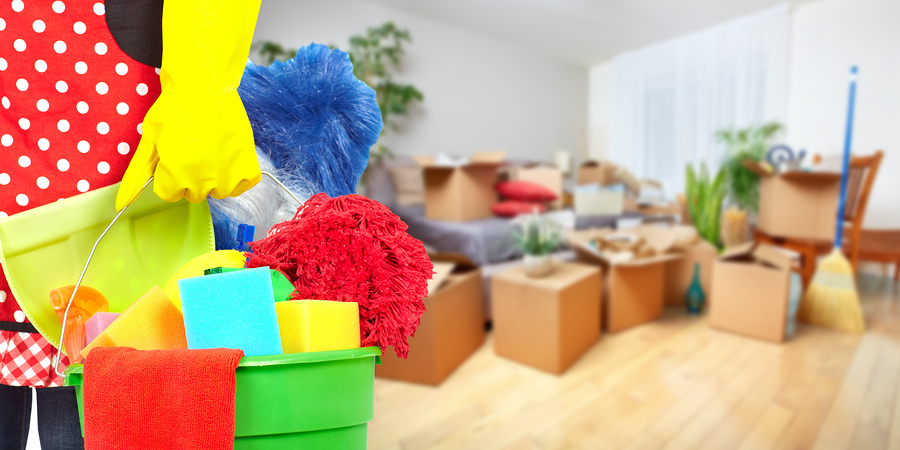 What's
not
included in end of lease cleaning?
As much as you want to know what's included, we think it's equally important is knowing what falls outside the scope of end of lease cleaning – and who else may be responsible for certain kinds of issues.
For faulty items or fixtures in the home, your landlord may be responsible for repairing, provided:
The damage was not your fault, and

You alert them as soon as you become aware of the issue
A good example of this is if your exhaust fan in the bathroom has stopped working.
Issues that may pose a danger to our cleaners are usually electrical related. For example, a  broken outlet or sparking light switch should be looked at and repaired only by a licensed and qualified electrician.
Similarly, if your toilet is susceptible to backflow, you should call your local plumber so they can examine the issue and provide the right remedy.
Think of it this way: end of lease cleaning does not take into account repairs or general home improvements. And if you have damaged something during your time as a tenant, it's  your responsibility to ensure it gets repaired before you leave. 
Need end of lease cleaning from the Masters? 
If you want to know more about end-of-lease cleaning, we can help you.
Master Cleaners are a team of professional cleaners working across Melbourne and Sydney, offering a range of cleaning services and exceptional attention to detail.
For the best chance at getting your bond back in full, call the Masters for complete end of lease cleaning before you move out.
We'll sweep even the smallest doubt from your landlord with our first-class end of lease cleaning services! 
Receive 100% of your bond back

Leave the premises pristine clean

Ensure we clean it right the first time

And if we don't we'll come back free of charge
You focus on the move, and let us focus on the mess – call Master Cleaners today for end of lease cleaning in Melbourne and Sydney today.
Call 1800 11 22 34 or fill in this form and we'll get back to you!