You hate cleaning tiles… so why on earth should you have to do it?
At Master Cleaners, we LOVE cleaning.
The tasks you dread? We crave. 
The tasks you hate? We love! 
The task you avoid? We're ready to take them off your hands! 
And one of those tasks is tile and grout cleaning. Why get down on your hands and needs, scrubbing for hours on end for gleaming, shining, clean tiles? Let us take care of the difficult tasks – we love them!
Your ceramic or porcelain tiles are possibly one part of your home that gets dirtiest the quickest, and requires the most frequent cleaning.
And it's easy to understand why: every day, tiles and exposed to dirt, mould, water, soap scum, toothpaste, and watermarks.
Grout between tiles can be extremely porous, absorbing all kinds of debris and stains, resulting in dull and dirty tiles that are hard to clean – but easy to spot!
So before you begrudgingly set aside a Saturday morning for cleaning tiles, why not give the task to a professional cleaner?
Not only does that mean you won't have to clean tiles yourself (yes!) but our qualified team will clean to the highest standard efficiently with effective treatments and remedies. 
Our professional cleaners save you from difficult work
Cleaning tiles and grout entails a lot of hard work. 
The average homeowner can easily find themselves losing hours of their precious weekend.
As they scrub and brush the tiles in their bathrooms, they hope to finally get rid of that ugly black mould.
However, using a single brush and store-bought spray can result you cleaning for hours, leaving you feeling tired and frustrated at the end.
Put down the brush and call the Masters instead. Our skilled team clean tiles and remove mould so that you don't have to!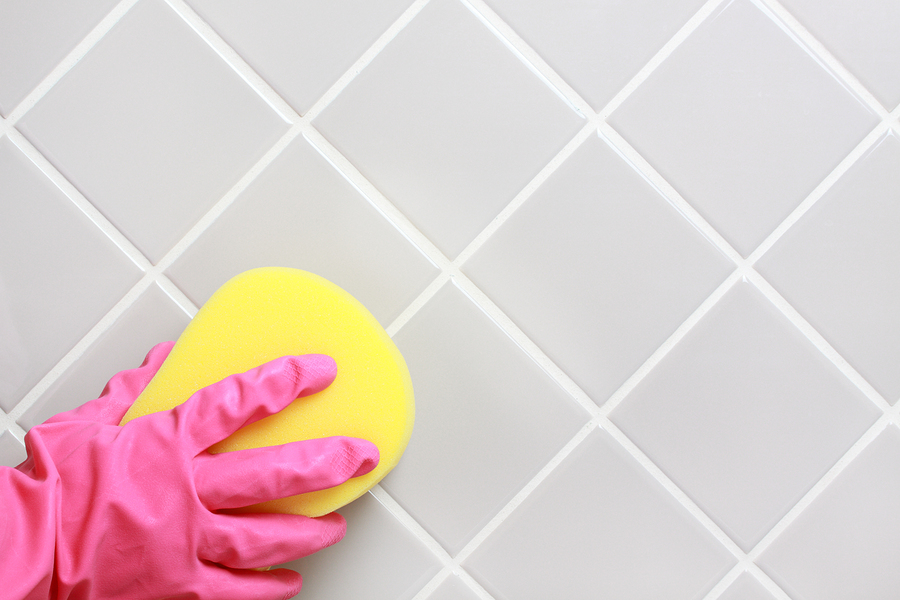 Extends the life of your tile and grout
Extend the life of your tile and grout and protect them from future damage by letting a professional tile cleaner take care of the job!
We use the right solutions, product, and equipment to not only clean your tiles, but to help them stay cleaner for longer.
Our tile and grout cleaners can easily identify the tile material (such as granite, sandstone, marble, or slate) and use the right remedies and solutions to ensure we don't just clean your tiles, but also don't cause any damage.
Restores your tiles to their former glory
Not only does a dirty bathroom make you feel a bit icky, but it can also leave you feeling like this room in your home is a bit dull and in desperate need of a pick-me-up. 
Make your tiles look fresh and clean again with the help of our professional cleaners.
Our top-down cleaning approach ensures that no surface is left untouched. The result? A pristine, fresh, clean, and safe space!
Tiles aren't just in the bathroom!
As one of the home's few 'wet rooms', the bathroom is a breeding ground for mould and mildew.
Particularly during the winter, condensation builds, leading to rapid mould growth that can tarnish the look of your tiles.
But the bathroom isn't the only places tiles are found!
Tiles line the floors of:
Retail shops

Lobbies and foyers

Hotels

and apartment buildings
Also don't forget that tiles don't just cover the floors: they can be used as features on walls or even down the side of benchtops.
Look for expert tile cleaners in Sydney
Tiles offer a fresh and crisp look to your home, office, or bathroom… but only when they're at their gleaming best!
Dirty tiles look dull and particularly if you're a business, can leave a sour taste in clients' and customers' mouths as they see a space that is showcased with little pride.
Take away the pain and hassle of tile cleaning with our expert cleaners in Melbourne and Sydney.
Whether you own or manage a commercial space and need weekly cleans, or if your home needs monthly tile cleaning, our Masters are the team to call!
Cleaning tiles is tedious – so let us do the hard work. We clean fast and effectively, taking away the stress (and bore) of tile cleaning!
Enjoy a healthier and cleaner home, office, or business with the help of the Masters!
Contact us on 1800 11 22 34 or fill in the form to get a quote for your cleaning requirements today.