Your new office building in Hobart has just been completed. The wiring has been set up, the carpets are installed and it's almost ready to move into.
Almost.
There's just one step left: office fit-out cleaning.
As much as you'd like for your staff or tenants to move in immediately, you still need to perform a thorough office fit-out before everything goes online.
If you ask us, this is one of the most underappreciated parts of building or renovating a new office complex.
Today, we'll be explaining why it's so important, as well as why you should leave   to the pros!
Why office fit-out cleaning is so important
Simply put, it's because newly-completed buildings can be extremely dirty!
While your builder will do their best to remove screws, nails and other debris, they won't always get the little things. Dirt, grime, and dust are three of the most common messes left after builders are done working in a new facility.
And unfortunately, they're also the most stubborn, lingering for months afterwards!
Office fit-out cleaning should be on top of your checklist of things to do before you hand over the property.
By cleaning out your office building after fit-out, we can help you…
Make your business operational
A company or industry can't be fully operational unless their office is as pristine and clean from top to bottom.
After all, you can't force your staff to work properly in a dirty, dusty, and cluttered office place!
Our office fit-out cleaning in Hobart ensures that all corners have been made clean and dust-free, allowing your team to get to work straightaway.
Protect computers and other office hardware
Dust and dirt isn't just annoying – it can also wreck your computers and other hardware!
Computer circuits and the like are extremely sensitive and delicate. In practical terms, this means that even dust and dirt can ruin office computers and other systems.
To protect your computers (and the important documents and files contained on them), you'll need to ensure that your office is as clean as possible.
And that means calling a professional for office fit-out cleaning in Hobart.
Make your office look good and comfortable
First impressions  matter in business.
What sort of impression will you leave with your guests and partners if your office is coated in a thin layer of dust for the first couple of weeks after you move in?
This doesn't just go for businesses that are moving in – if you're planning on selling or leasing your recently-completed office building to another business, the same applies!
How are you supposed to demand a good price on the building if business owners are greeted by a dirty, grimy office when they turn up for an inspection?
Ensure your office leaves the best possible first-impression by organising office fit-out cleaning. Our commercial cleaners in Hobart ensure that every surface in your office spotlessly clean before your grand opening.
Build a safe and healthy working environment
As a business owner, you owe a duty of care to your staff and guests. Specifically, you need to provide a workplace that's safe and healthy for all.
The problem is that construction messes such as dirt and dust can affect staff wellbeing. In particular, dirt and dust particles can:
Irritate the eyes

Cause coughing and sneezing

Reduce lung function over the long-term
For staff with asthma, hay fever and other allergies or respiratory conditions, dust particles can even trigger allergy attacks.
Luckily, this isn't a problem when your office is cleaned-out by a professional!
Why hire a professional office fit out cleaner in Hobart?
So now you know why office fit-out cleaning is so important.
Now there's just one question left: who should be doing it?
If you ask us, office fit-out cleaning should only ever be left to a professional office cleaner in Hobart.
There are a couple of very good reasons why…
We have the right tools and equipment
As we'v e mentioned before, office fit-out cleaning is considerably more complex than just polishing the floors and wiping down surfaces. It also includes more complex tasks such as cleaning air conditioning ducts and grout.
The problem is that these jobs require specialist cleaning products and hardware.
Don't have the equipment on hand to get the job done? Luckily for you, we do!
Our professional office fit out cleaners in Hobart come equipped with all the right tools and equipment to tackle any cleaning task, from the simple to the complex.
We offer complete cleaning services
Office fit-out cleaning is about more than just wiping down surfaces or giving carpets a quick vacuum – as we mentioned above, it involves getting deep, and cleaning out all sorts of hidden nooks and crannies.
It also involves cleaning out areas like air conditioning ducts, vents and more – in other words, the types of places most people wouldn't even think of cleaning.
Sure, you could try to do it all by yourself.
But what if you miss something? Or if you don't have the tools on-hand to clean out something such as, say, an air conditioning duct?
In these cases, your best bet is to call a professional office fit out cleaner in Hobart!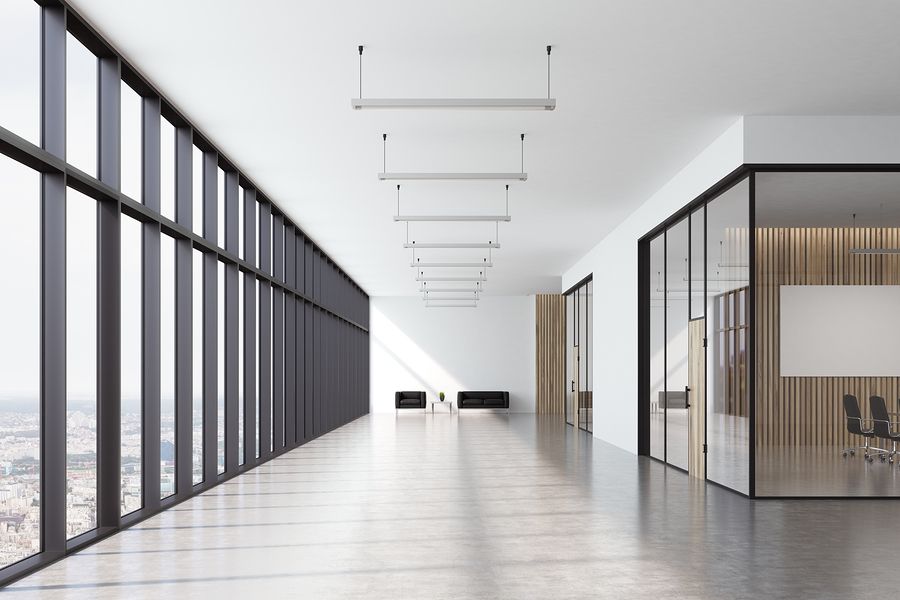 Great attention to detail
You want to make sure that your clients get a good first impression of the office facility. As such, you can't afford to miss a single spot!
Each of our Master Cleaners are selected not only for their skills, but also their thoroughness and attention to detail. We'll ensure that every single mess in your office is thoroughly cleaned, and that nothing is missed.
This directly translates to a stronger impression, higher rents and a healthier office place.
High-quality cleaning
Finally, we're just that good at what we do!
We don't mean to brag, but our team deal with considerably messier properties on a daily basis. Some of the cleaning jobs our commercial cleaners in Hobart have worked on include:
If we can handle those, we can certainly handle your office fit-out cleaning!
Choose the Masters for office fit-out cleaning in Hobart
Before becoming fully operational, your newly built office space needs a deep and thorough cleaning. 
Need help? Call the Masters!
Our office fit-out cleaners in Hobart ensure that you hand over (or move into) a clean, spotless office.
By the time we're done with it, your office will look completely spotless!
We offer unique cleaning packages and services tailored to all of your office requirements. Get in touch with our Masterful office fit-out cleaners today to see how we can help you!
Contact the Masters on 1800 11 22 34 or fill in the form to get a personalised quote for your office fit-out cleaning.