So you need a cleaner to look after your office, restaurant, or showroom.
Just one problem: there are literally hundreds of different businesses offering commercial cleaning services in Sydney – so how do you choose?
As commercial cleaners in Sydney ourselves, we know a thing or two about what it is that sets average commercial cleaners apart from good ones.
While there's a lot to consider, choosing a cleaner doesn't have to be hard. To help you out, here are some of the questions you should be asking yourself when choosing a commercial cleaner who will Master the job for you.
1) What is their experience?
What's the most important thing when interviewing applicants for a new job? One word: experience.
Hiring a commercial cleaner is no different in this regard!
When it comes to commercial cleaning experience counts. Without experience, how can you be sure that your commercial cleaners know how to manage important parts of your commercial property?
So what do we mean by experience? 
Having some experience, or experience with only certain types of commercial cleaning services in Sydney simply isn't enough. You need to be confident that your cleaner has enough experience:
In the commercial cleaning field

With the type of commercial cleaning your business needs
Simply put, commercial cleaning isn't always straightforward. Rarely is it as simple as a quick spray-and-wipe – certain businesses come with very particular cleaning requirements.
Take kitchens, for example. In addition to regular cleaning, commercial kitchen cleaning also comes with strict hygiene requirements, Not to mention, kitchen grease can be quite stubborn!
Experience in commercial cleaning is one of the reasons our commercial cleaners are the best in the business.
Master Cleaners have been providing commercial cleaning services for our clients for 17 years. We have been at this for a long time, which means we know the ins and outs of commercial cleaning.
What's more, our commercial cleaning experience extends beyond offices, covering a wide range of properties including:
2) What is their reputation? 
So your cleaner can perform the type of cleaning you need – great! However, there's another thing you'll need to think about.
Namely, their reputation.
You can suss out a cleaner's reputation by looking at how many other businesses have chosen them. If the number is high, that's a great sign – that means they're trustworthy, and more importantly, it means that you can trust them to look after your business.
If commercial cleaners don't have a strong reputation, it may be because they:
Lack experience

Don't perform commercial cleaning jobs to a high standard

Are new entrants to the market
How exactly do you suss out a cleaner's reputation?
Master Cleaners have built a strong reputation in successfully completing a wide range of commercial cleaning jobs – when we say we have a good rep, we mean it!
Read what our clients have to say about us in our Testimonials.
3) What are their qualifications?
This one is a little bit harder to pin down since there isn't really a standard that all commercial cleaners are held to.
That said, there are a couple of things you can look out for!
For starters, there are a couple of qualifications that you should always look for in a commercial cleaner.
A police check is a great start, as this certifies that your cleaner can be trusted with your commercial property.
Another thing to look at is specialist training, especially if you're engaging a commercial cleaner in Sydney for specialised services such as high-rise window cleaning or mould and mildew cleaning.
Luckily for you, all of our Masterful cleaning specialists are fully certified, highly trained and police checked.
This means when you engage Master Cleaners you don't have to worry!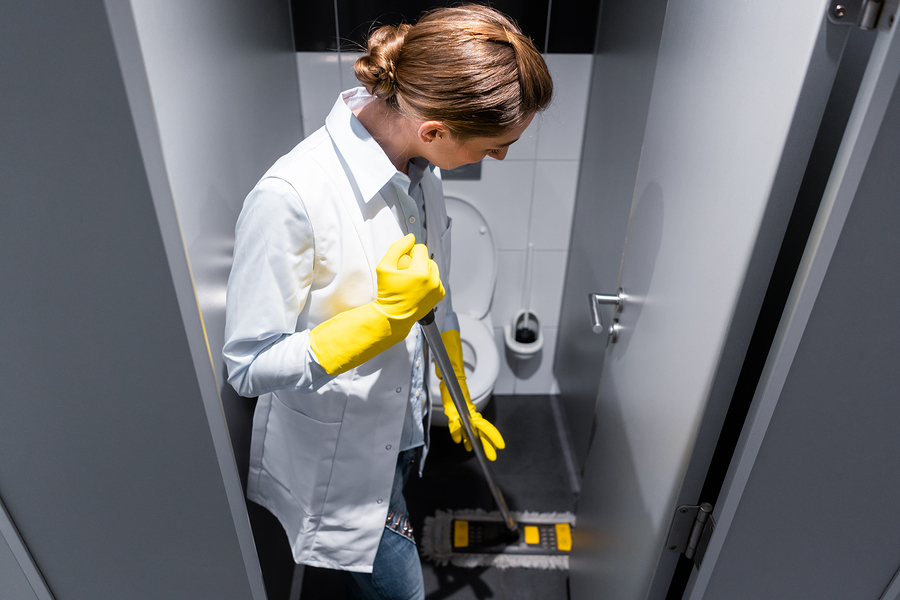 4) How good are they at, you know, cleaning? 
Attention to detail matters when it comes to commercial cleaning. A single missed mess can affect employee health, and cast a bad first impression.
To (mis)quote Aerosmith, you want a commercial cleaner that won't miss a single thing. 
We know what you're thinking: how exactly are you supposed to test this? While you can get a feel for experience and qualifications based on their website and general demeanour, it's harder to figure out how detailed your commercial cleaning service in Sydney will be.
The solution? Arrange a trial!
If the cleaners you're looking at offer one-off cleaning services, book one and treat it as a test run.
Are you happy with the results? Did they get the spaces in between? Were you pleasantly surprised by the fact that they cleaned up areas you weren't expecting?
If so, call them back and make them your regular cleaners!
Our commercial cleaners treat every inch of your property with the same thoroughness and attention to detail.
Our cleaning specialists have:
A keen eye for detail 

Systems-based procedures that tick all the cleaning boxes

Spot-checking performed by qualified supervisors  
Book a trial with us today – we promise you won't regret it!
5) Can they customise your cleaning plan? 
No two businesses are identical – nor are their cleaning plans!
There's no such thing as a one size fits all solution, especially when it comes to commercial cleaning.
If you ask us, the best commercial cleaners in Sydney are the ones that understand this, and who tailor their cleaning packages to match your needs.
At the very beginning, they'll ask what services you need, and may even perform an on-site inspection. This information allows them to figure out what sort of cleaning your business needs and will allow them to create a plan that's tailored for your business and commercial property.
Some of the services we might suggest for your commercial property include:
Bins

Disinfecting kitchenettes

Toilets
Just tell us what you need, and we'll include it in your plan.
What can our commercial cleaners in Sydney do for your business?
When choosing commercial cleaners, it helps to understand what they can do for your business. Luckily, Master Cleaners just about does it all!
Our experienced team, proven techniques and specialist cleaning have made us the go-to choice for commercial cleaning services in Sydney. Whatever it is you need, you can trust us to Master your commercial cleaning needs.
Leave your cleaning to the Masters – call Master Cleaners today on 1800 11 22 34 or click here to book a job with us.