CLOSED – the very last word and restaurateur or cafe owner wants to see hung up on the front of their establishment.
As anyone in hospitality knows, it's a competitive field, with new eateries popping up like daisies all over Melbourne.
However, in many cases, restaurants and cafes find themselves shutting their doors not because of the competition, but because they do a bad job cleaning!
In 2017 alone, it's reported that 37 convictions were recorded and a whopping $354, 504 handed out in fines as a result of poor sanitation.
Needless to say, if you want to avoid your restaurant or cafe appearing in a news article for the wrong reasons, proper cleaning is essential.
What does that include? We're glad you asked: today, our restaurant cleaners in Melbourne explain what your cleaning routine should look like.
Importance of restaurant and cafe sanitation
Make a good first impression
Who would want to return to a place where the dining area is dusty, the floor is covered in crumbs, or the tables are stained or greasy? Not us, that's for sure!
It should go without saying that a dirty restaurant puts your business' reputation at risk. Not to mention, it can drive away potential customers if cleanliness substantially affects the atmosphere.
Prevent infection
Even more important than a clean dining area is a clean kitchen.
Regular cleaning and sanitising the kitchen as well as the food stations is crucial to prevent the spread of bacteria such as E.Coli and Salmonella, as well as cases of food poisoning.
Just like a dirty dining area, this doesn't look good for you – unlike a dirty dining room however, an outbreak of food poisoning or infection is liable to get you shut down!
The solution? A clean kitchen and detailed closing procedure that includes kitchen cleaning.
Avoid food contamination
In addition to infection, restaurant kitchens and cafes also need to worry about cross-contamination.
This is when bacteria from a raw item of food is transferred to another via a dirty bench, chopping board or set of utensils.
A good kitchen cleaning routine accounts for this, targeting the most likely sources of cross contamination and cleaning them every time they're used, as well as thoroughly disinfecting them at the end of the night.
A clean restaurant helps you avoid a fine
The food service industry is tightly regulated when it comes to safety food standards – after all, the health of hundreds of patrons might be at stake.
To ensure food safety standards are followed and that your restaurant doesn't get hit with a fine for breaching these conditions, restaurant cleaning is a must.
Not to mention, this also lowers your risk of being hit with a lawsuit too!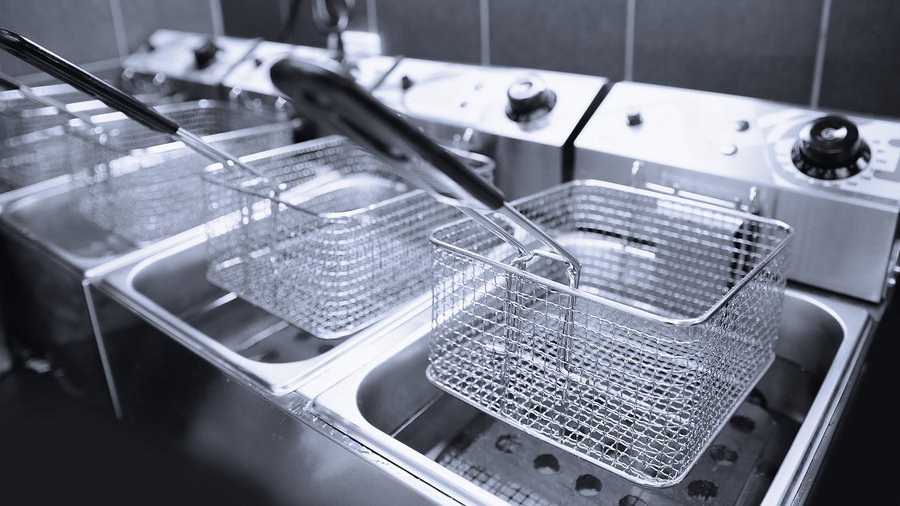 How to clean your restaurant your cafe?
Okay, so now you know why restaurant and cafe cleaning matters.
Now for the hard part: figuring out how you're going to keep yours clean.
Luckily, our restaurant cleaners in Melbourne are here to help!
Among the many businesses our cleaners work at are hospitality businesses like restaurants and cafes.
While each one is unique, with a different menu and setup, there are a couple of tips we think are applicable no matter what type of cuisine you make or which budget you accommodate for.
1) Clean frequently
As in, at the end of every night – and for certain surfaces or utensils, after every individual use!
However, determining cleaning frequency goes beyond the nightly clean – have you thought about how often you get your kitchen deep cleaned?
Simply put, there are certain messes that can be missed during the evening clean. For example:
Corners underneath cabinets
The insides of ovens
Behind sinks and cookers
Inside refrigerators
These "hidden" messes can easily be missed during nightly cleans – alternatively, they might be too stubborn to completely remove on your own (or at least, not without shutting down for a day!)
The solution? Deep cleaning from a professional restaurant cleaner in Melbourne!
2) Clean throughout the night
It's the end of the night. The kitchen is closed, there are only a few stragglers left and everybody is raring to go home.
However, there's still the matter of cleaning!
If you want to avoid staying back an hour past closing, we suggest getting as much cleaning out of the way beforehand.
For the floor staff, that means polishing glasses or dusting window sills (with a wet wipe, of course) whenever there's a lull, or if a section is empty.
And for the kitchen staff, that means washing utensils and benches as they go, and proactively wiping away grease whenever there's a spare second.
3) Create a checklist
The best way to ensure that every part of your restaurant cleaning is carried out properly? With a formal checklist or policy.
Once you've figured out what types of leaning your kitchen needs, we suggest writing it all down and making it official.
We know, we know – nobody likes having to bring red tape into the kitchen.
When it comes to restaurant cleaning however, cleaning is the one area where we strongly recommend putting on in place!
With a checklist, you can ensure that everything gets done before close – more importantly, it also ensures that no easily-forgotten cleaning tasks are missed.
4) Finally, hire a professional cleaning service in Melbourne
Maybe restaurant cleaning forces your team to stay behind long past closing.
Alternatively, it could be that your restaurant is simply too large to leave to your staff to clean on their own.
Maybe you need a deep clean, and want to be 100% certain that nothing will be missed.
Whatever the reason, we strongly recommend calling a professional restaurant cleaner in Melbourne to help out with your cleaning!
With a professional restaurant cleaner, you can rest easy knowing that your restaurant or cafe is being treated with:
Powerful cleaning products
A systems-based approach to cleaning that ensures every corner is covered
Specialist equipment for those challenging restaurant messes
Finally, all of this is backed by years of experience cleaning out stubborn kitchen messes – you won't have to worry about anything going overlooked!
Looking for a cafe or restaurant cleaner in Melbourne?
Call the Masters!
While we may not be able to help you refine your menu, we can certainly ensure that you won't have to worry about forced closure, lawsuits or a bad first impression.
If you want to avoid gaining yourself a bad rep, entrust your cleaning to Master Cleaners' team of professional restaurant cleaners in Melbourne and Sydney.
With 20 years of experience and many commercial cleaning clients under our belts (including many hospitality businesses), you can trust Master Cleaners to keep your restaurant clean and presentable.
Master Cleaners provides a range of professional restaurant and cafe cleaning services all over Sydney and Melbourne. Our team of expert cleaners takes the cleaning burden off your staff.
In addition to nightly and deep cleans, we also offer specialised cleaning services such as:
Contact Master Cleaners today on 1800 11 2234 or book online for onsite inspection and quote.