Your business' grand opening is coming up — the thought of it leaves you feeling almost giddy with excitement!
Everything's in place:
Electrical wiring? Check.

Signage? Yep, that's good.

Security cameras? Up and running.

Catalogue? Ready to be ordered.

Staff? Trained up and ready to serve.
But wait, there's one more thing that is very important in your checklist:  shop fit-out cleaning. 
Just like other businesses, retail and shop fit-out cleaning is a MUST before the big day finally comes. Before everything else is ready, shop fit-out cleaning is essential.
Shop fit-outs can leave a lot of dust, debris and waste. While not as extreme as a construction site, fit-outs still generate a lot of mess, as your shop gets walls, fixtures and fittings installed.
All of which needs to be cleaned up before you can open for real.
Only then will you be able to provide a retail environment that's healthy, clean and presentable.
And for that, you need the help of a professional shop fit-out cleaner in Melbourne!
Why choose a professional cleaner for shop fit-out cleaning?
You might be tempted to do all the shop fit-out cleaning on your own. If you ask us however, there are two BIG reasons why you shouldn't: time and effort.
If you're opening up a new business, you've got a lot on your hands. You've got to:
Figure out finances

Decide what you're going to sell

Interview potential staff

Find suppliers and sign contracts

Develop procedures and systems

Get your POS working

Apply for trading permits
It's a LOT of work – why add even more work to the list?
Take it from us, shop fit-out cleaning can be a tough job. While not as difficult as builders cleaning, it's still a time-consuming process.
Carpenters will leave behind sawdust, painters may have accidentally gotten flecks on paint elsewhere, and remodelling can reveal messes that the previous owners never got around to cleaning.
Luckily, unlike you, we specialise in these jobs!
Get everything cleaned
properly
One example is glass.
Say you need to remove window signage and stickers from the previous tenant. Alternatively, the painters or plasterers you hired to redecorate were a bit sloppy and got paint and plaster flecks on your windows.
How do you get these off without scratching the glass?
It requires powerful, yet gentle tools and methods, as well as experience working with glass surfaces.
And that's just one example of how our shop fit-out cleaners in Melbourne can provide a deeper clean than you can on your own!
It's all about your image
A clean shop reflects on your brand and helps make a strong first impression. 
Naturally, a clean shop or retail space is key to this!
This goes beyond a quick spray-and-wipe – you'll need to perform a deep clean, and ensure that every surface and corner is thoroughly cleaned out, lest you inadvertently turn away potential customers.
This is especially important if you're opening a franchise – corporate likely has some very stringent requirements regarding its image and cleanliness, which you will need to adhere to.
Specialised cleaning
Oftentimes, wiping and vacuuming simply won't cut it. Many commercial areas require specialised cleaning methods in order for them to prepare for operations.
In addition to retail stores, that can include:
Specialist retailers

Food retailers

Pharmacies and chemists
Each of these have extra stringent or unique cleaning requirements. Thus, they need specialised cleaning.
Not all cleaners can offer this (and don't even think about DIY!)
Your shop fit-out cleaning checklist
Just to be clear, this isn't meant to be a definitive guide. Each retailer is different, and thus requires a unique cleaning plan.
These are just some of the most common trouble spots that tend to arise as part of shop fit-out cleaning. While they're a good base to start with, they shouldn't be taken as the gospel!
Clear the air
In addition to surfaces, dust and dirt can linger in the air. In many cases, they will end up in air vents, exhaust fans and most troublingly, air conditioners.
Unless this dust and debris is cleaned up, turning on your air conditioner may end up blowing particles all over your shop – not good!
As part of our initial inspection, we'll take a look at your vents and fans and determine whether or not you need to get them cleaned. If you do, we'll suck up all dirt and debris, allowing you to provide clean, fresh air.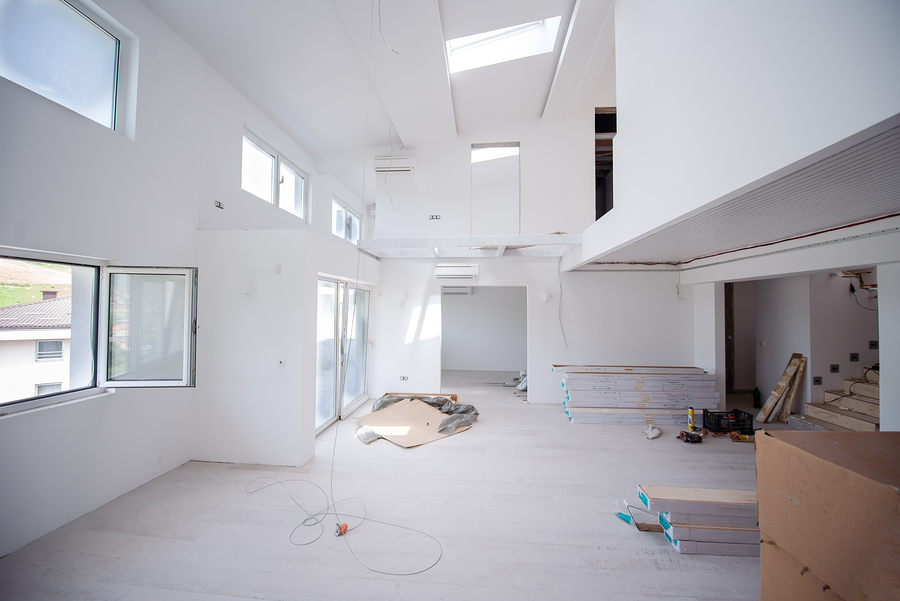 Clean walls, floors and carpets
Paint spots, stains, stickers and even mess may be left after your shop fit-out, so it's important you ensure that everything is vacuumed, scrubbed and well sanitised – especially if your shop is carpeted!
Carpets trap all sorts of particles, which vacuuming often struggles to reach. Only hot water extraction carpet cleaning methods can ensure that these deep messes are removed.
While you can rent these machines, the truth is that most systems available for rental simply aren't very good. They require multiple passes and often don't do the job at all.
Luckily, ours aren't like that!
Check the storage areas
You'd be surprised how many retailers overlook this!
Sure, no customer is ever going to find their way back here. But you and your staff will.
And if the area's coated in dust and whatnot, how are you supposed to do paperwork, or move around stock without a mess?
Trust us, a clean storage area will make the task of moving around inventory considerably easier and more pleasant – especially if some of your staff have respiratory conditions.
Choose Master Cleaners for shop fit-out cleaning in Melbourne
When it comes to setting up your business, you can't underestimate the importance of cleanliness.
Our Master cleaning team will prepare your commercial space for its grand opening with best in the business shop fit-out cleaning.
Make your retail space look more like a shop and less like a building site in no time at all!
Start your business on the right foot.
For shop fit-out cleaning that leaves your retail space looking spotless, get in touch with our Masterful team today on 1800 11 2234 or fill in this form to book our commercial cleaners in Melbourne, Sydney or Hobart.