The construction process can be long and messy – at the end of the day however, it's 100% worth it.
Of course, you'll have to clean up all the mess that construction generates before you can celebrate!
We all know how much dirt, debris and other clutter can build up while construction goes on.
Not only is it uncomfortable, but it's also dangerous – each of these presents a tripping hazard, or worse. And that's exactly what construction cleaning in Melbourne focuses on removing.
It's all about keeping the site safe while construction goes on.
But what exactly does construction cleaning involve, anyway?
The importance of ongoing construction cleaning
Simply put, construction sites can be dangerous. And not just because of dropped hammers and accidents – as we mentioned above, many types of construction mess also present tripping hazards.
Focus #1 of construction cleaning: to get rid of these tripping hazards.
Regular construction cleaning removes the worst offenders, leading to a safer construction site for your chippies, tradies and contractors.
What does construction cleaning typically include?
A whole bunch of different things!
As a general rule however, most construction sites tend to create similar types of messes. As a result, construction cleaning tends to look pretty similar (at least, in the early stages).
That means certain cleaning tasks are pretty common, including…
Cleaning floors
Loose nails. Bits of wood and plasterboard. Plastic wrapping. These are just some of the things that can be found littering the floor of your typical construction site.
While your team may have gotten rid of the worst of it (no need to worry about entire bricks being left around), it's the little things that often end up getting overlooked when it's time to knock off.
Each of the messes listed above presents a slipping hazard. And that's why it's important that they're taken care of with ongoing construction cleaning.
Loose messes
Anyone who's ever worked construction knows that chippies, tradies and contractors like to eat at sites. There's nothing wrong with that.
Unfortunately, this also means that sometimes, wrappers and bottles get left behind.
A lot of construction workers look at these and think "it's not dangerous, so it's not a big deal if I forget from time-to-time".
Okay, so this isn't really a health and safety hazard the same way that tripping hazards are. That having been said, it isn't a good look, especially if you have a building inspector or even the client making a site visit!
Getting rid of marks, stains and splatters
While these messes are targeted at the very end during after build cleaning (an entirely different type of cleaning, just for the record), that doesn't mean that you shouldn't do this type of cleaning as you go.
While marks, stains and splatters aren't exactly dangerous, they are a bit of an eyesore.
Worse, in many cases the longer you leave them, the harder they are to remove. Sure, our construction cleaners in Melbourne can clean dried paint for you – however, it usually involves more work, and often specialised cleaning products.
As part of construction cleaning, we can remove these stains and messes for you while they're still relatively fresh. This eliminates the risk of damage to tiles, glass and other surfaces that paint, concrete or stucco may have landed on.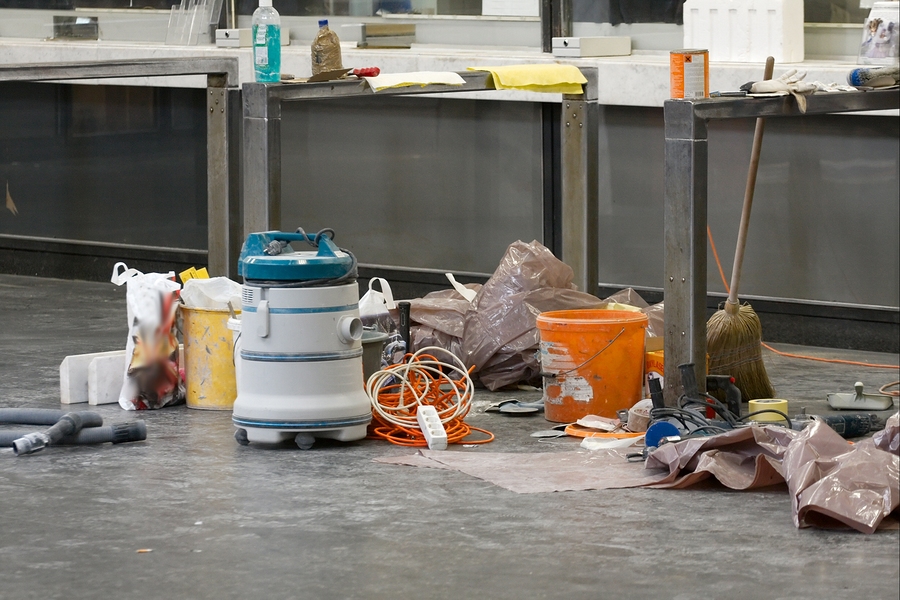 Heaps and heaps of dusting
Construction kicks up a lot of dust.
Sure, stepping on dust may not present a major safety risk. Breathe it in however, and your health may suffer as a result!
PPE such as masks can help if your site is constantly plagued with dust. If you ask us however, a better way of tackling the problem is to ask your construction cleaner in Melbourne to add a thorough dusting to your construction cleaning package.
Trust us, your team will thank you when they come in the morning after a good dusting. At least, until the dust returns again (at which point, our construction cleaners in Melbourne return to clean up!)
The difference between construction cleaning and builders cleaning
They may sound similar – however, the truth of the matter is that both of these types of cleaning are completely different!
Here's another thing you may not have known: if you want to build a cleaner, safer workplace, you'll need to make sure your project includes both types of cleaning.
But what exactly is the difference between builders cleaning and construction cleaning in Melbourne, anyway?
Let's start with the big one: timing
Construction cleaning is an ongoing process that occurs throughout your project. It can be once a night, the end of each week, or once a fortnight – the frequency is up to you.
By contrast, builders cleaning happens once everything else is all said and done. Essentially, it's the finishing touch, a final pass that ensures that every single piece of construction mess is taken care of, and that you're able to hand over a clean property.
Both are important – you can't get away with skipping one of them!
And on a related note: frequency
As mentioned above, construction cleaning in Melbourne is an ongoing process. It isn't a once-and-done thing – it happens throughout a project.
Conversely, builders cleaning happens once everything else is complete. By nature, it happens at the very end of your project.
While it's important that you include both in your project, you don't need to engage both services at once. You won't need to worry about spending too much at once, or having two separate cleaners getting in each others' ways.
Different focuses means different cleaning tasks
Construction cleaning in Melbourne focuses on cleaning up all the messes that pop up as a result of construction. Like we mentioned above, that means sweeping away loose debris and dusting, among other things.
Since builders cleaning happens at the very end however, it tends to focus on the more specialised, in-depth types of cleaning that can only be left until the end.
For example, carpets are usually some of the last things installed in a property.
As a result, builders cleaning might involve carpet steam cleaning to remove the chemicals that some carpet warehouses use to protect their stock from insects.
Carpet cleaning is just one of the niche cleaning services we offer – click here to learn about our specialised cleaning services.
Call the Masters for construction cleaning in Melbourne
You've sorted out contractors. Permits have been approved. The client has given you their sign-off.
Everything's set… that is, everything with the exception of your construction cleaning.
Sure, you could leave that work to your team. But do you really want to add another task to their list of duties?
That's where we come in.
Master Cleaners provides all sorts of cleaning services to builders like yourself, including construction cleaning. You can trust us to keep your construction site safe, and to prepare it for turnover. 
All you have to do is contact the Masters on 1800 11 2234 or fill in the form to get a quote from us today.