While the party may be over, the cleaning isn't – in fact, it's only just starting! 
All holidays come to an end, and with that comes a truly ridiculous amount of post-holiday cleaning… especially if you've invited guests into your home or hosted countless parties during the holiday period.
You've already got a post-party hangover to nurse – the last thing you want to add to your plate is cleaning up leftovers, dust, dirt and stains. It's the holidays, after all!
Luckily, our cleaners in Melbourne can help!
We'll clean up party messes
Big parties come with big mess. And honestly, who wants to be stuck cleaning up all of that stuff?
The solution? Let a pro do it for you.
In addition to ongoing cleaning contracts, our team of cleaners in Melbourne also perform one-off cleans. On top of end-of lease cleans and the like, we can also look after post-party clean ups!
That also includes tough, hard-to-remove stains like red wine. Using an arsenal of potent cleaning products, we'll leave your home (or business, for that matter) spotless once the party's over.
Sofas, carpets, walls, kitchens… whether it's a huge Christmas party, a New Year's celebration of a family reunion, we'll take care of all the cleaning for you, allowing you to focus on resting and enjoying the rest of your holiday.
Our commercial cleaners work with venues
As any venue operator knows, December-January are among the busiest periods of the year, with countless events and functions filling up the calendar and less time between bookings.
And that means more cleaning up.
If you need a bit of extra muscle for your venue, our cleaners in Melbourne are more than willing to help. We specialise in the big messes, including industrial-strength messes (we mean that literally – many of our clients are warehouses and factories).
Our cleaners in Melbourne are more than willing to help you out if your staff are finding it hard to keep up with the extra cleaning this period involves.
We can take over your regular cleaning for this period, or come down to assist with any especially lively parties you may host.
We'll get your business ready for the new year
Nobody likes going back to work after the holidays – especially if the workplace is dusty after 2 weeks (or more) of complete inactivity. Instead of getting straight back into things, you may find yourself spending a considerable amount of time cleaning up when you first get back!
Cut the cleaning out of your set-up routine by engaging our cleaners in Melbourne before you get back.
We can even perform a deep clean over the holidays, reaching all those messes that are too hard to reach or too tough to fit into a regular clean!
We'll find all the messes that may have accumulated over the break and eliminate them, allowing you to return to a cleaner, healthier workplace.
Why choose Master Cleaners' cleaners in Melbourne?
Enjoy a stress-free new year
Dirty spaces can leave you feeling tired and stressed. Not to mention, cleaning up large messes is always a major source of stress!
So instead of freaking yourself out in the new year, why not leave all the cleaning to the professionals?
Our cleaners work fast and clean thoroughly, ensuring you won't have to worry about a thing. Even the toughest post-holiday mess is no trouble for our Masterful cleaners in Melbourne!
Don't wear yourself out thinking of the post-holiday cleaning – call our cleaners in Melbourne to enjoy a stress-free new year.
We save you time
Cleaning takes time, and can soak up a considerable amount of your holiday time. Luckily for you, our cleaners in Melbourne have got you covered.
We combine powerful and potent cleaning products with proven techniques and years of experience, ensuring a more thorough clean that doesn't take anywhere near as long.
This allows us to give you your holidays back – instead of cleaning up your big party, you can focus on enjoying your time off.
Finally, we won't spend days in your home, either – we can be done in as little as an hour or two!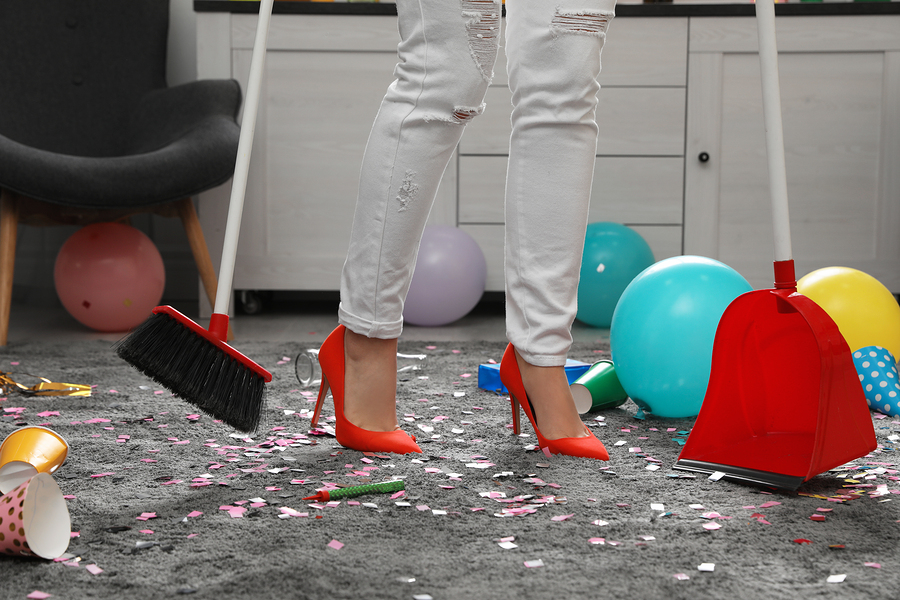 Flexible cleaning options
Your cleaning requirements are unique. Fortunately, our team can adapt to your needs.
Many cleaners are specialised in a specific type of cleaning, or only work with certain clients. Luckily, Master Cleaners aren't one of them.
Our list of clients includes all sorts of callers:
Just tell us what you need, and we'll create a customised cleaning plan that targets the messes present at your site. Our cleaners in Melbourne will arrive with all the equipment needed to thoroughly clean your property after the holidays.
Specialist cleaning services
The holidays are the perfect time for those specialised cleaning tasks that you simply can't fit in any other time of the year.
In particular, we're talking about cleaning tasks that are too big or disruptive, and which can only be done if you have a several days-long period where your business won't be operating.
Periods such as the Christmas break.
Many businesses (and some homeowners) use this as an opportunity to get specialist cleaning tasks performed.
And for that, they choose our cleaners in Melbourne!
Master Cleaners offers a suite of different specialist cleaning services:
Need post-holiday cleaning?
Let our Masterful cleaners in Melbourne take care of your post-holiday cleaning!
Our cleaners work all year-round – and that includes over the Christmas and New Year period. While 2020 is now well underway, our cleaners in Melbourne are available the next time you need post-holiday cleaning.
Our qualified and experienced Master Cleaners provides you with complete cleaning services that keep your home and facilities safe, clean and at its best even after the holidays.
Whether it's a huge party that needs cleaning up, or preparation for the new year, our team is the one to call for post-holiday cleaning services.
It isn't just Melbourne, either – we also operate in Sydney as well, helping Sydneysiders clean up both before and after their holidays!
Contact Master Cleaners today on 1800 112 234 or fill in the form to get a quote from us today.