Cleanliness – it's your business!
Retailers of all stripes know the importance of first impressions in retail, and how it can have a lasting impact on your business. You want your shop to be the one that's  bright, sparkling and smelling fresh – not the one that passers-by dismiss as dingy.
Of course, the act of cleaning your business is a different matter altogether – one that our commercial cleaners in Sydney often see being performed incorrectly.
We don't want to see your business struggle. That's why today we're going to be focusing on the often overlooked parts of retail cleaning – could you be missing one of these essential messes?
Retail store cleaning in Sydney
You can always increase the likelihood of customer purchase when you have a spotlessly clean and organised retail shop. 
Always remember that excellent customer service is all about serving your customers to the best ability that you can.
People who come in and out of the retail shop will immediately feel how important they are to their business when every corner of their space is as spotless and dust-free as possible.
Remember to perform deep cleans
Sure, you might vacuum at the end of the day, or sweep up during a lull in business. But how often are you cleaning those hidden messes?
You know what we're talking about:
Corners of shelves

Underneath displays

Stockrooms
These are the areas that rarely see any cleaning at all – after all, they're in use for pretty much the entire year.
The problem is that oftentimes, these areas can be home to hidden messes, bacteria, or worse!
We suggest giving your shelves a good clean you move stock around or reorganise shop displays. Sure, it can add time to your setup period – however, it can also work wonders for your cleanliness!
Another good idea is to organise a deep clean over the Christmas break. Working alongside a commercial cleaner in Sydney (or just handing the entire job off to them), you can remove these hidden messes before staff and customers return.
Disinfect as much as possible
Here's something many smaller retailers overlook: disinfecting.
While they may have a couple of hours set aside per week to vacuum and mop, very few think about disinfecting high-traffic areas like registers, doors and bins.
The problem is that these areas can often carry germs and bacteria, affecting staff and customer health.
A quick spray and wipe won't do the trick, unfortunately – to eliminate these health risks for good, you'll need to properly disinfect them with proper antibacterial agents.
Through proper disinfection, retail shops can prevent viruses and germs from spreading,thus keeping their area safe from any risk of illnesses.
Clean glass doors and windows
Glass windows and doors are the first things a customer will see when they pass by the front of your retail store or enter.
Despite that however, it's something that a surprising number of small business owners completely neglect!
Of course, there's a lot more to cleaning glass than just wiping it down – proper technique and products are needed if you want to avoid leaving visible streaks and watermarks behind.
Want to avoid leaving any visible signs behind? Learn 7 tips for cleaning glass without streaks.
Use your air conditioner
Cleanliness in retail businesses isn't just about cleaning up spills in aisles or dusting off shelves – clean air is another crucial part of the equation.
Clean air is pleasant air. Just imagine walking into a shop that feels musty and dank. Would you stick around to make a purchase? Probably not.
And what about asthmatic customers, or staff with hay fever or respiratory conditions? Unclean air can be irritating at best, and downright dangerous at worst!
Luckily, there's a solution.
Did you know? Your air conditioning system can do much more than just cool the air during summer – most modern systems feature extensive air filtering, and a handful even double as air purifiers too.
This is (one of the reasons) why bigger retail shops run their air conditioning systems year-round, even when the temperature outside is perfectly fine!
If there's a higher level of dust inside your business, or the pollen forecast for the coming week doesn't look very good, we suggest running your air conditioner.
Of course, these air conditioning filters often accumulate a lot of dust and grime over the year, so they'll need cleaning too. Learn more about Master Cleaners' air conditioning cleaning service.
Clean fitting rooms, racks, and storage areas
You'd be surprised how many small business owners neglect cleaning these areas!
Fitting rooms, racks, storage areas, break rooms… these are just some of the often neglected parts of retail businesses. As a result, messes can often build up here, bringing down the rest of your shop.
To help you keep track, we recommend using a checklist and keeping track of when each area was last cleaned. This will remind you to clean these less travelled areas, before messes there get too bad.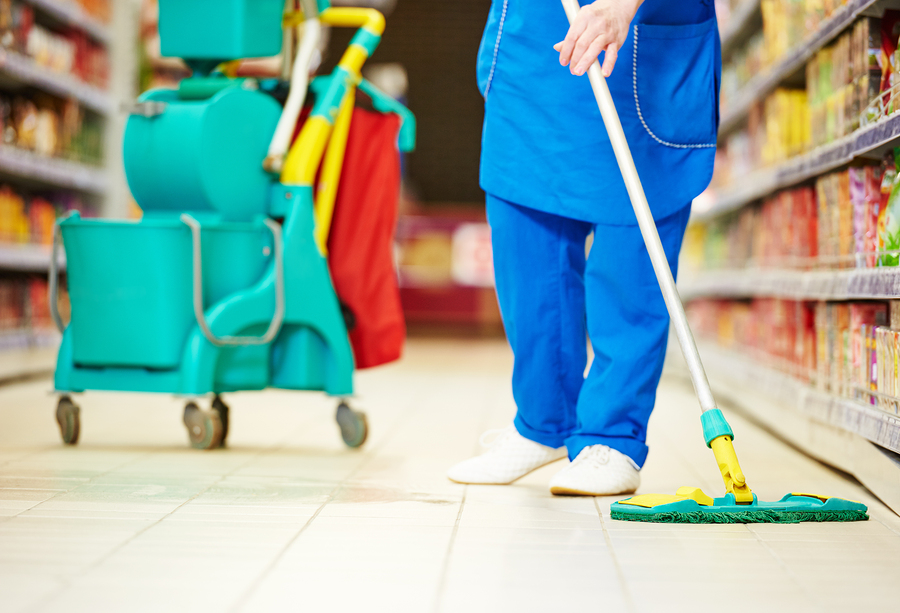 Get help from a professional cleaner
We know how day to day operations can be very tight, especially when dealing with all those enquiries, requests and transactions. Sometimes, you just want to go home at the end of the day, and not spend a minute longer at work cleaning up.
Sound like you?
If so, don't be afraid to call for help!
Whether it's a deep, intense clean over the Christmas break (only 2 months to go!) or regular nightly cleans, a commercial cleaner in Sydney might be just what you need.
There's no shame in getting help – especially since small business owners are among the busiest people around!
Save yourself the time, and hand your cleaning off to a Master.
Masterful commercial cleaning in Sydney
Giving your customers the best retail experience starts by making sure that you have a clean, organised, and fresh retail space.
And Master Cleaners can help you get there.
Our commercial cleaners in Sydney are experts in all types of commercial jobs, including retail spaces. Whether it's a small corner shop or a large shopping centre, our team can do it!
Our team sits down with you to devise a cleaning plan that's tailored for your business. Simply tell us what you need cleaned, how regularly and any special requirements – we'll do the rest.
We'll Master what you can't clean!
Contact us on 1800 11 22 34 or fill in the form today.