While your team diligently cleans up at the end of every night (and may even engage a commercial cleaner in Sydney to help lighten the load), there are certain messes and areas that you simply can't get around to, or are too tough to clean on your own.
There's never been a better time to get your commercial kitchen deep cleaned than now!
But what is kitchen deep cleaning, anyway? What makes it so important?
And can you do it on your own? Or is it something that requires help from a commercial cleaning specialist?
Deep cleaning vs regular kitchen cleaning
Like the name suggests, the main difference between regular and deep kitchen cleaning is depth. It's a question of depth – deep cleaning is much more intense, while regular cleaning is more routine in nature.
Regular cleaning is all about knocking out all the cleaning tasks that you need to perform on a regular basis. It's about ensuring a level of cleanliness in your commercial kitchen. 
It also leaves a lot of corners, nooks and deep-set messes behind – things which, over time, can lead to your commercial kitchen becoming unsanitary, even if you clean your most-used surfaces every night.
By contrast, the goal of deep cleaning is all about getting rid of everything that you can't clean with your regular cleaning. It may only occur once a month, once a season or once a year – it all depends on how long it takes for these messes to accumulate.
Deep cleaning covers hard-to-reach areas that are often missed in daily cleaning, such as:
Under the sink

Range hoods and fans

Inside your the oven

Underneath shelves in your storeroom

Inside freezers and fridges

Under benches and kitchen equipment
As you can imagine, this type of cleaning is much more effort – it's also equally as important. You can't afford to delay it!
Deep messes
Your nightly clean can't reach every part of your kitchen – there are bound to be places you've overlooked.
After a while, the messes in these overlooked areas will build-up to the point where they break out of their area and start affecting other parts of your kitchen.
As part of your kitchen deep cleaning, our commercial cleaners in Sydney will thoroughly clean these areas for you, protecting the rest of your kitchen.
Tough messes
In other cases, you'll be faced with messes that are simply too hard to clean up on your own. Maybe the mess is difficult to remove – alternatively, it could be hidden away in an area that you simply can't clean, such as the internals of your oven.
Luckily for you, our deep cleaning experts in Sydney have no problem cleaning these types of messes for you!
Why hand off commercial kitchen deep cleaning to our kitchen cleaners in Sydney?
We've got the skills to pay the bills
Deep messes. Sticky grease. Grime. These are just some of the things that we look at while performing kitchen deep cleaning.
Not only are they common, but they're also extremely tough to remove, especially if you aren't kitted out like our commercial cleaners in Sydney are!
Just look at the cleaning materials you have for your nightly clean. Jif, metal foam, sponges – while these are great for cleaning cooktops and benches, they struggle to get rid of these particular messes.
Luckily, our commercial cleaners in Sydney can do it for you. We've got:
Extensive experience performing kitchen deep cleans

Specialist cleaning materials and products for tough messes
No matter what we uncover during your deep clean, we can get rid of it for you!
Our team of expert cleaners have the training and equipment needed to work with a whole range of different types of specialised cleaning:
Find out more about our specialised cleaning services.
Custom commercial kitchen cleaning
No two commercial kitchens are alike. You make different types of cuisine, use different equipment and your kitchens are laid out differently.
Most importantly, you all have different cleaning requirements:
How busy is your restaurant or cafe?

How big is your kitchen?

What does your regular cleaning cover, and what do you need us to look after?

How often do you need extra help?

Do you need regular cleaning as well?
The answers will depend on your business – luckily, our custom cleaning service ensures that you get whatever you need.
Do you simply need some help preparing for the busy season? Perhaps you finish late and open early, and want to free your staff from having to stay behind to look after routine cleaning.
And if you only need one-off cleaning for certain specialised cleaning services, we're happy to accommodate.
Whatever it is, tell us and we'll craft a custom cleaning plan that leaves your hospitality business clean, spotless and healthy!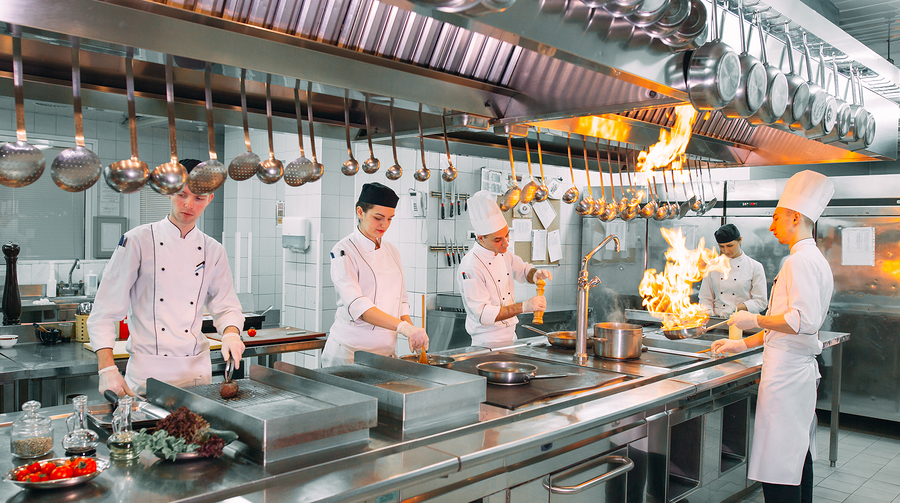 Give your staff their time back
Hospitality is hard work. The last thing your team wants to deal with following a long and busy shift is to have to do a bunch of cleaning as well!
While we're sure that your team is happy to take care of routine cleaning like wiping down benches and taking out bins, they may be less happy if you make them do a deep clean – a process that can take hours – too.
That's where our team comes in.
Our specialty is the big, tough and stubborn cleaning jobs. We take care of all these jobs for you, allowing you to send your team home for some well-deserved rest.
We're sure they'll appreciate it!
Need commercial kitchen cleaning in Sydney and Melbourne?
Running a restaurant, cafe or any other type of kitchen is a lot of work – and a lot of that work is cleaning.
Luckily, you don't have to go it alone.
Whether it's your nightly clean or a periodic deep clean that targets all the messes you can't get rid of on your own, our kitchen cleaners in Sydney and Melbourne are ready to help you out.
Master Cleaners have been in the cleaning industry for almost two decades. Over that time, we've developed cleaning techniques and become intimately familiar with the hygiene standards that hospitality businesses demand.
No task is too big, too tough and too challenging for our team at Master Cleaners to handle!
Keep your kitchen clean – contact us on 1800 11 22 34 or click here to get a quote from us for your commercial kitchen cleaning in Sydney and Melbourne.