Our family-owned business has been open since 2001. During that time, we've made a name for ourselves as one of the leading cleaning services in Melbourne and Sydney thanks to our unmatched attention to detail and thorough service.
And now, we're expanding that service to Tasmania, allowing Hobart residents to enjoy the same exemplary cleaning service we provide homeowners and businesses in the mainland.
Part of that is thanks to our keen eye for detail and uncharacteristic thoroughness.
Another part of that is diverse range of cleaning services we offer!
Need a Masterful cleaner to look after your home or business? If so, there's only one team to call!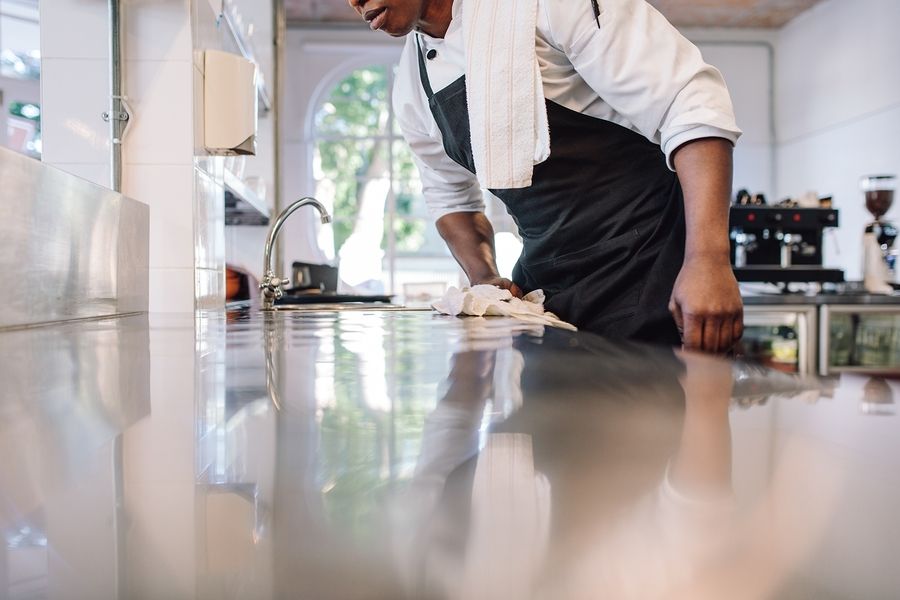 Commercial cleaning in Hobart
As a manager or business owner, you want a business that works seamlessly and efficiently. That means powerful computers, effective tools and of course, a clean working environment.
Just put yourself in the shoes of one of your frontline staff. How efficiently would you be able to work if you were:
Not to mention, what sort of an impression would that leave with your customers and potential partners?
Make no mistake, cleaning is a crucial part of building a more effective and efficient workplace. Not to mention, it's also an important part of meeting your OHS obligations!
The only problem: how do you go about it? After all, you can't exactly make your staff take time out from their busy days to clean.
Luckily, commercial cleaning services offer a solution to this problem. Little wonder it's one of the most common cleaning services we provide in Hobart. Some of the commercial cleaning services we offer include:
Regular and deep cleans for commercial clients
Our team can organise regularly-scheduled cleans – whether you need cleaning once a week, once a fortnight or every evening, our team can help.
Get in touch with our team to discuss your cleaning needs. We'll build a schedule that works around your operations, and which targets the biggest messes found in your business.
We can even provide deep cleaning services. We'll help with your annual spring cleaning, or come in and help get you back up and running after your Christmas break.
Builders cleaning in Hobart
Let's face it: construction sites can be dirty places. In addition to sawdust, you'll also have to worry about loose debris and particles piling up in corners.
All of which can present a risk to your contractors and builders.
While the best practice is to clean as you go, the fact of the matter is that you simply won't always have time to do that. Not to mention, construction sites come with so much debris and other messes, that it can be impossible to catch everything before the day's over.
Luckily, our Master Hobart cleaners offer a wide range of construction cleaning services:
Whether you need somebody to clean paint splatter off windows or a team who can make the property spotless before handover, our team look after every aspect of construction cleaning.
Make things easier for your builders and contractors – our cleaners are all trained and insured, and can walk onto a work site straight away to get the job done.

Domestic and property cleaning in Hobart
Who'd want to live in a dirty home? Not us, that's for sure!
So you want to prepare for spring by giving your house a total clean, from top to bottom. That's a lot of work – you'll be scrubbing, going underneath furniture and dealing with corners that haven't been cleaned for months, or even years.
We understand if you don't want to do all of that on your own – that's why our Masterful cleaners offer domestic cleaning services for homes of all sizes. We understand that not all homeowners can do their own cleaning, which is why we're willing to do it for you!
In addition to residential cleaning, our cleaners in Hobart also provide a wide range of other domestic and property cleaning services:
End-of-lease cleaning
So you're desperate to get your bond or security deposit back. As we're sure you know, many landlords and agents can be very picky – many cite cleanliness (or more accurately, a lack thereof) as the reason for withholding your bond.
Don't give them the opportunity – get a professional cleaner to give the property a thorough clean before you hand the keys back over.
At Master Cleaners, we offer a bond back guarantee – if you don't get your bond back, we'll return and finish the job at no extra cost to you.
Facilities cleaning in Hobart
Your health is important, and cleanliness is important for good health.
However, there are some facilities where health is paramount – even more so than usual!
Each of these facilities hosts people with less robust immune systems. In order to protect them from illness and infection, a clean property is a must.
Specialised cleaning services
When it comes to facilities with vulnerable residents, a quick wipe and vacuum simply won't do the trick. You need to clean up messes in harder-to-reach parts of your facility too, as these can often negatively affect health.
For example, messes can pop up:
Hire the cleaning services Hobart knows they can trust
So you need something cleaned. Luckily, our cleaners in Hobart are up for the job!
Our newly-expanded service means that Hobart residents and business owners get to join Melbourne and Sydney in enjoying the best cleaning services around.
Maybe it's too tough for you to clean. Maybe it's too dirty and you don't want to get anywhere near it. Or maybe it's just too boring.
With the Masters on your side, you can be confident that your property is being looked after. Whether you need a routine clean, or an extra pair of hands to help with your spring cleaning, you can trust Master Cleaners' team of cleaners in Hobart!
If you're interested in hiring out Hobart team, we would love to hear from you. You can get in contact with us on 1800 11 22 34, or by following this link.