As all renters know, end-of-lease cleaning is one of the most important things you'll do while living at a property. How clean you leave things behind could determine how much (if any) of your bond you get back!
The mere thought of your end-of-lease-cleaning can be exhausting – as any experienced renter knows, there's always something that gets overlooked. 
Luckily, we're here to help stop that from happening.
Our cleaners have provided end-of-lease cleaning in Sydney that has helped many renters get their bonds and deposits back in full.
Over the years, our team have noticed a couple of areas that often get overlooked in the end-of-lease cleaning process.
To help with that, we've put together this handy checklist – if you're moving out soon, we suggest you take a look!
Kitchen
As one of the busiest (and oftentimes, messiest) spaces in your house, your kitchen is one of the hardest rooms in your house to clean. In many cases, it's this room that trips up renters.
So that's where we're going to start!
Dealing with grease
One of the biggest issues with kitchen cleaning is grease and oil. Not only do they create a thick, sticky layer on everything, but oftentimes it's also incredibly difficult to remove.
Get rid of oil and grease in cooking areas, countertops by wiping it down using baking soda and vinegar, and soak your range hood filters in a similar solution.
If that doesn't work, you'll need to break out the heavy-duty stuff – if you have degreaser on hand, use it.
And most importantly, don't forget to give every surface a pass. While range hoods help, grease can potentially build up everywhere, including the insides of cabinets!
Cleaning kitchen appliances
Spoiled food, moulds, and dirt are some of the most common messes you need to watch out for in cleaning the kitchen.
In particular, they're especially common in ovens and refrigerators (so that's where that box of leftovers went!)
Many renters completely overlook these areas, instead focusing on cooktops and visible areas. If you want your bond back in full however, you'll want to give these a good clean as well.
And if possible, try to vacuum and mop underneath – who knows what may have fallen underneath the fridge in all your months living there?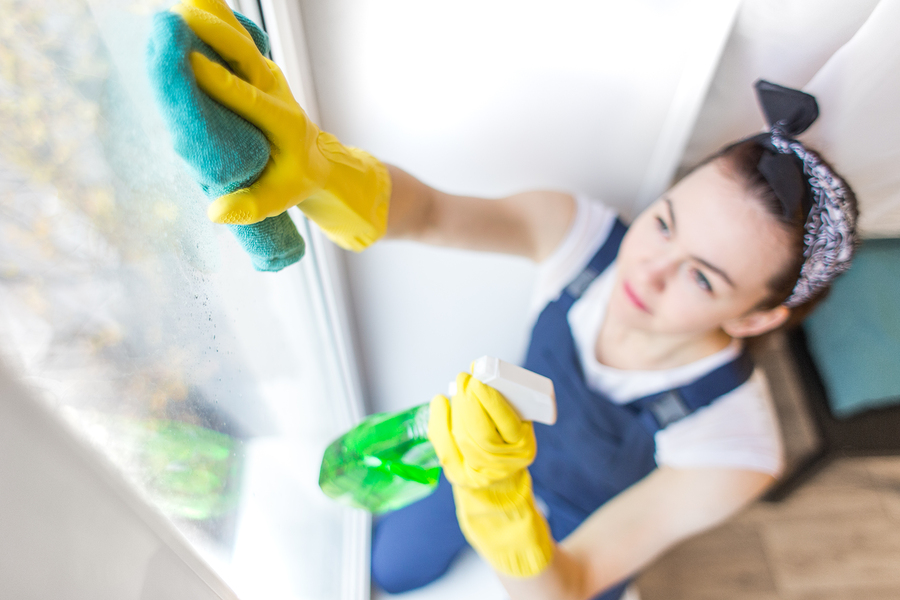 Bathroom
Bathroom cleaning can be a real challenge – luckily, out end of lease cleaners in Sydney can help you identify some of the often-missed spots!
In addition to standard cleaning jobs like wiping down and disinfecting the toilet bowl, basin and mirrors, you'll also want to look underneath different bathroom fixtures.
For example, say you have a free-standing bathtub. Who knows what might be lingering underneath? If you can, mop and clean thoroughly underneath to get all the bacteria that might be seeking refuge down there.
You'll also want to keep an eye on the little things. Soap holders, towel rails, tissue holders, the ceiling fan… they may appear clean, but just in case, give them a quick once-over.
And finally, you'll want to pay close attention to your tile and grout cleaning.
Grout cleaning
Clean grout has a light, sandy colour. Unfortunately, many of us are so used to dirty grout that we don't even realise it's meant to look this way!
Grout is porous, meaning it can absorb all manner of bacteria and germs. In many cases, this also makes grout the number 1 destination for mould and mildew growth.
All of which makes tile and grout cleaning pretty darn important!
Looking for tile and grout cleaning tips? Click here to read our article about that.
Having trouble with mould? Our mould and mildew cleaners can help!
Laundry rooms
You clean your clothes in the laundry room… but when was the last time you cleaned your laundry room?
Laundry rooms are often neglected in weekly house chores. What's more, many also double as storage rooms too, making the situation even worse!
When it comes to cleaning out laundry rooms, you'll want to:
Air the room out first

Dust surfaces

Clean tiles and grout

Thoroughly clean the areas that buckets, mops and brooms are stored
In particular, you'll also want to clean your washing machine and dryer if they're the owner's property.
Washing machine cleaning
With the washing machine, you'll want to run it with special washing machine cleaner (or even good old cleaning vinegar) in place of detergent. This will help clear all the tubing and water lines.
Finally, if possible, try to clean underneath the washing machine if you can. In many cases, that funky smell may be coming from underneath!
General indoor cleaning
Now that we've gotten the trouble areas out of the way, it's time to move on to general indoor cleaning.
No matter how big or small your indoor space is, chances are there could be areas you're overlooking which are harbouring dirt and messes. Not only can these be hard to get rid of, but they can also lead to you losing your bond!
Make sure that when handover happens, the landlord has nothing to complain about. In addition to general cleaning, you'll also want to:
Empty and clean drawers and cupboards

Wipe and clean bulbs and other lighting fixtures

Dust the tops of shelves and cabinets

Steam clean carpets and vacuum floors

Wipe windows and blinds

Clean sliding window rails

Wipe down baseboards

Disinfect the pantry, kitchen cabinets and bin area
These are just some of the indoor areas that often get overlooked. Luckily, our end-of-lease cleaners in Sydney ensure that none of these are missed or omitted!
Make end-of-lease cleaning easy with the help of the Masters
Deep cleaning your residence before the landlord's final inspection can be tough. You'll only have limited time, and as we all know, they also tend to be extremely picky to boot.
Luckily, professional end-of-lease cleaning in Sydney will help you clean every corner of your home back in its original form.
Professional cleaning services make cleaning easy – we use the right tools and cleaning methods, maximising your chances of getting your bond back.
In addition to a more thorough clean, going with a pro also demonstrates to your landlord that you've gone above and beyond in upholding your end of the bargain to leave the property clean.
Get your bond back with our end-of-lease cleaners in Sydney!
So take away the stress – have our end-of-lease cleaners in Sydney do the job for you!
Master Cleaners ensure that your landlord is handed a clean, well-maintained and thoroughly-cleaned home.
Our team offers a unique bond back guarantee – we'll get your bond back in full. And if you don't get your money back as a result of a cleaning-related issue, we'll come back and finish the job at no extra cost!
Master Cleaners provide you with various cleaning solutions, even in hard to reach areas you might not be able to clean on your own:
Save our number or contact us on 1800 11 22 34 – alternatively, fill in the form to get a quote for your end-of-lease cleaning requirements.